Israel and Hamas agreed to a ceasefire on Thursday to halt 11 days of fighting in the Gaza Strip.
A statement from Israeli Prime Minister Benjamin Netanyahu's office said the security cabinet had "unanimously accepted the recommendations to accept an Egyptian initiative for an unconditional … ceasefire."
Palestinian groups Hamas and Islamic Jihad then confirmed the ceasefire in a statement, saying it would come into force at 2:00am on Friday (23:00 GMT on Thursday).
 

LIVE UPDATES 
 At least 232 Palestinians, including 65 children, have been killed in 11 days of Israeli bombardment.
On the Israeli side, 12 people, including two children, have been killed.
---
---
Moscow Welcomes Israeli-Palestinian Ceasefire, Calls For Direct Negotiations
Russia welcomes the Israeli-Palestinian ceasefire but believes this important step is insufficient, as it is necessary to launch direct negotiations, the foreign ministry's spokeswoman, Maria Zakharova, said on Friday.
"Moscow notes with deep satisfaction that on May 21, at 2 a.m., the ceasefire in the zone of the Palestinian-Israeli conflict entered into force," Zakharova said at a briefing.
"In order to avoid a further spiral of violence, an important but still insufficient step was taken. At this stage, in order to prevent a relapse of confrontation, international and regional efforts should focus on creating appropriate conditions for restarting direct political negotiations between Israelis and Palestinians in order to resolve a set of fundamental issues related the final status, based on the UN resolution and the two-state principle," Zakharova continued.
Moscow calls on its partners from the UN Security Council and the middle Eastern Quartet to "continue vigorous collective effort to resume direct constructive Palestinian-Israeli dialogue," the spokeswoman added.
---
Le Drian Calls For Resuming 'Real Political Process' Between Israel, Palestine
French Foreign Minister Jean-Yves Le Drian welcomed on Friday the Israeli-Palestinian ceasefire and pointed to the need to relaunch the political process between the two countries.
"I welcome the ceasefire, which came into force this night and stopped the cycle of violence, which entails big human casualties," Le Drian said in a statement, released by the French Foreign Ministry.
The foreign minister noted that the cessation of hostilities is the "fruit" of the collective diplomatic efforts of European countries, the United States and a number of Arab countries.
"The escalation seen in the past few days underscores the need to resume real political process between the parties with appropriate international support, without which, as we know, violence will take place again, France is committed to play its full role in these efforts together with its international partners," Le Drian continued.
---
UK's Johnson Welcomes Israel-Palestine Ceasefire
UK Prime Minister Boris Johnson welcomed on Friday the ceasefire between Israel and the Gaza Strip-based Hamas movement, and urged leaders in the middle East region to find a durable solution to the Israeli-Palestinian conflict.
"I welcome news of a ceasefire in Israel and Gaza.
Leaders in the region must now work to find a durable solution to the Israeli-Palestinian conflict that prevents terrorism, ends the cycle of violence and delivers a sustainable and just peace," Johnson wrote on Twitter.
---
Start of ceasefire like 'first day of Eid'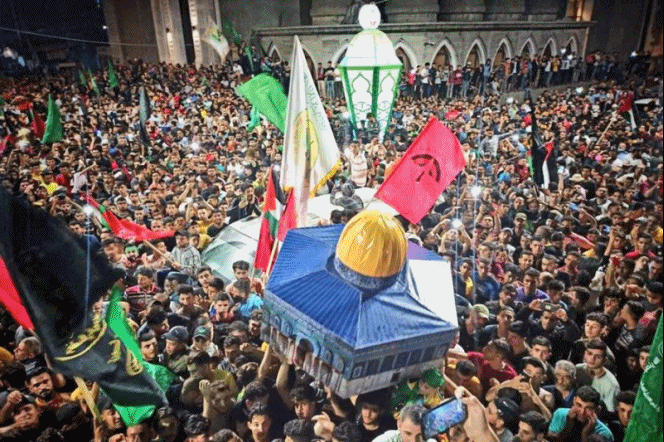 "They cannot destroy the spirit of resistance in us."

Watch as Palestinians across the Gaza Strip and the occupied West Bank celebrate the ceasefire that came into force in Gaza early on Friday morning. pic.twitter.com/XZA7PxJ8cT

— Al Jazeera English (@AJEnglish) May 21, 2021
Al Jazeera's Youmna al-Sayed, reporting from Gaza City, said Palestinians began celebrating as soon as the ceasefire came into effect.
"They started cheering and cheering 'God is Great'," she said. "And for them today, it's considered actually the first day of the Eid al-Fitr religious festival since the aggression started before the last day of Ramadan and they didn't really get to celebrate Eid."
Standing in the middle of ruins of a bombarded home, al-Sayed said displaced families had already returned from the United Nations-run schools they had taken shelter in "because of the very bad humanitarian conditions" they faced there.
"There was no water, no electricity and they went there taking nothing with them," she said. "But these people now in these circumstances are compounded by the crisis of the very high poverty and unemployment rates in the Gaza Strip, as well as the restrictions in regards to the reconstruction materials that are allowed to enter the Strip. They have no alternative but to wait for the funding of the construction of their homes again."
---
Israel and Hamas must build on ceasefire deal: EU commission
Ursula von der Leyen, president of the European Commission, welcomed the ceasefire deal and urged both sides to build on it.
"I urge both sides to consolidate it and stabilise the situation in the long term. Only a political solution will bring lasting peace and security to all," Von der Leyen tweeted.
---
China to provide humanitarian assistance to help Gaza recovery
China will send assistance to help treat the injured and find new accommodation for those left homeless as a result of the Israeli air attacks on Gaza, state media reported, citing Tian Lin, a spokesperson for the China International Development Cooperation Agency (CIDCA).
---
Scepticism in Israel in face of government claims that attacks set Hamas back
There is scepticism in Israel about the bombardment of Gaza and the ceasefire despite claims from the country's defence minister that the attacks had set Hamas back, according to Al Jazeera's Harry Fawcett, who is in West Jerusalem.
"There's a lot of concern and questioning about where this has got anybody – apart from more destruction and more death," Fawcett said, noting: "There's a sense that this has all been said before."
---
Hamas maintains 'hands on trigger' after ceasefire: Official
A Hamas official has told Reuters news agency that Israel must end its violations in occupied East Jerusalem and address damages from the bombardment of Gaza following the ceasefire, warning the group still has its "hands on the trigger".
"It is true the battle ends today but Netanyahu and the whole world should know that our hands are on the trigger and we will continue to grow the capabilities of this resistance," said Ezzat El-Reshiq, a member of the Hamas political bureau.
El-Reshiq said the movement's demands also include protecting the Al-Aqsa Mosque compound and ending the eviction of several Palestinians from their home in East Jerusalem which he described as "a red line".
"What comes after the battle of the 'Sword of Jerusalem' is not like what came before because the Palestinian people backed the resistance and know that the resistance is what will liberate their land and protect their holy sites," El-Reshiq said.
---
Rebuilding a 'daunting challenge' for Gaza following ceasefire
Some people in Gaza who had been taking shelter in school buildings after their homes were damaged in Israeli raids began returning as soon as the ceasefire began, according to Al Jazeera's Youmna al-Sayed who is reporting from Gaza.
But she said many residents had had their homes completely destroyed and the task of rebuilding the city would be a "daunting challenge" due to the closure of border crossings which has starved Gaza of crucial building materials, fuel and other necessities.
"We are talking about rebuilding a territory that was already suffering a dire economic situation, high unemployment and the coronavirus outbreak," she said.
---
Biden delivers remarks on expected ceasefire
US President Joe Biden spoke about the expected ceasefire between Israel and Hamas from the White House on Thursday afternoon.
"The United States fully supports Israel's right to defend itself against indiscriminate rocket attacks by Hamas and other Gaza-based terrorist groups that have taken the lives of innocent civilians," Biden said at the White House.
Biden said he "commended" the Israelis for bringing the immediate conflict to an end after 11 days and "assured" Israeli Prime Minister Benjamin Netanyahu of continued US military support during a call earlier in the day.
"These hostilities have resulted in tragic deaths of so many civilians, including children, and I send my sincere condolences to all the families, Israeli and Palestinian, who have lost loved ones," Biden said.
---
Relative calm in occupied East Jerusalem: Correspondent
Al Jazeera's Hoda Abdel-Hamid, reporting from Occupied East Jerusalem, said there a relative calm in the area.
"There have been according to this [Red Alert] app … that there had been quite a few rockets fired from Gaza, most of them intercepted by the Iron dome defence system, but in general quite quiet on this side of the border," she said.
"I think everyone on either side are bracing themselves that in 90 minutes or so they could maybe have a sigh of relief."
---
Israel strategy to divide Palestinians has failed: Israeli analyst
Akiva Eldar, an Israeli political analyst has said the government's strategy to divide Palestinians has failed.
"I think the Israeli strategy, which was to divide between the Palestinian communities in Gaza, in the West Bank, and in Israel proper … has failed for the first time in many years," Eldar told Al Jazeera via Skype from Tel Aviv.
"After we believed that wounds between Israeli and Arabs in Israel proper started healing, they opened again – and there is no ceasefire between the majority of the Israelis and the Israeli minority."
Moreover, Elder said Netanyahu is was likely to lose his partners from the radical right who were "very unhappy" with the ceasefire.
---
Explosions in Gaza still ongoing: Gaza humanitarian worker
Khaled Abu Shabaan, a humanitarian worker in Gaza City, said he and others could still here explosions.
"We can hear some sounds of explosions here and there, and also the drones are still filling the air so we are hopeful this alleged ceasefire will really materialise by 2 am as it was announced," he told Al Jazeera.
"I was very lucky to haven't been forced to relocate… [but] it's been a very tormenting experience for us to go through this war and if anyone wants this hell to end will be us Palestinians here in Gaza."
---
Ceasefire announcement 'very good news': UCLA professor
Dov Waxman, professor of Israeli Studies at UCLA said the agreement between Hamas and Israel to reach a ceasefire was "very good news".
"I think it could have been reached days ago with more concerted early pressure from the Biden administration, but it is certainly to be welcomed," he said.
However, Waxman said it was a "fragile ceasefire", it wasn't clear at this point whether there is an agreement between Israel and Hamas or just a mutual ceasefire.
---
People in Gaza fear intense bombardment before truce comes into effect
Journalist Sami Abu Salem, reporting from Gaza, told Al Jazeera Israel has launched intensified air raids on Gaza ahead of previous ceasefires.
"We expect that the people will celebrate … [but] people are [also] in fear because they are also used to seeing intensive fire just before the deadline," he said.
---
Hamas, Islamic Jihad confirm Gaza ceasefire
Palestinian groups Hamas and Islamic Jihad have confirmed the Gaza ceasefire in a statement, saying it would come into force at 2:00am on Friday (23:00 GMT on Thursday).
---
Israel announces ceasefire in Gaza operation
Israeli Prime Minister Benjamin Netanyahu's office has announced ceasefire in Gaza operation.
Earlier a Hamas official and Israeli media said Israel and Hamas will cease fire across the Gaza Strip border as of 2 am on Friday (23:00 GMT Thursday).
A Hamas official told Reuters news agency the ceasefire would be "mutual and simultaneous".
---
Palestinians not hopeful with diplomatic, UN efforts: correspondent
Al Jazeera correspondent Houda Abdel- Hamid reporting from Ramallah said Palestinians are not very hopeful with the diplomatic efforts, and the ongoing UN meetings.
"The feeling among the common Palestinians on the streets, especially the youth … [is not to] believe in anything anymore," she said.
"They wouldn't be listening to what's happening now. They would listen if someone comes in with some firm, hard piece of news."
---
No unified statement expected from UNGA: correspondent
Reporting from the United Nations headquarters in New York, Al Jazeera's Kirsten Saloomey says that despite strong statements from individuals, no unified statement is expected from the General Assembly.
"We are seeing individually very strong statements, as a group, we do not expect any unified statement from the General Assembly, just like we have to see yet one from the Security Council," Saloomey added.
"Efforts are ongoing … to come to some sort of an outcome statement, but we were told by the Palestinian ambassador and representative from the Organization of Islamic Cooperation, who called this meeting, that their first priority was to shine a light on the ongoing situation and amplify calls for a ceasefire."
---
'If there is a hell on earth, it is the lives of children in Gaza': UN chief
United Nations Secretary-General Antonio Guterres told the UN General Assembly on Thursday that "if there is a hell on earth, it is the lives of children in Gaza".
Guterres called for an "immediate end" to the fighting and said he was "deeply shocked by the continued air and artillery bombardment" by Israeli forces on Gaza.
He added that the "indiscriminate firing of rockets by Hamas" and other groups towards Israel – which have left 12 dead, including two children – was also "unacceptable". Read more here
---
Pro-Palestinian Protesters Shut Down Israeli Drone Factory In UK
The shutdown of a drone factory run by Elbit Systems, Israel's largest private arms manufacturer, in the English city of Leicester goes on into its second day as pro-Palestinian protesters remain on the roof of the building, Read more here
---
Iraqi Hospitals Ready To Treat Injured Palestinians 
 Iraq's medical facilities stand ready to take in Palestinians injured in the ongoing Gaza-Israel hostilities and dispatch medical teams to the Palestinian territories, the Iraqi Health Ministry said on Thursday.
"All Iraqi medical institutions are ready to receive any number of Palestinian victims and provide them with available medical services. The ministry has also trained special medical brigades to be sent to Palestine or any other place," ministry spokesman Saif al-Badr said in a statement reviewed by Sputnik.
The official recalled that Iraq has previously dispatched medical teams to Palestine and other locations.
---
UN Rights Council To Hold May 27 Session On Israel, Palestinians
The UN Human Rights Council said Thursday it would hold a special session on the situation in the occupied Palestinian territories, amid deadly violence between Israel and Palestinian groups in Gaza.
The session, planned for next Thursday, will address "the grave human rights situation in the Occupied Palestinian Territory, including East Jerusalem," the council said in a statement.
The session was requested by Pakistan, which is the coordinator of the Organisation of Islamic Cooperation, and the Palestinian authorities, it said.
This will mark the 30th extraordinary meeting of the UN's top rights body since its creation 15 years ago.
---
Germany's FM Maas Expresses Solidarity With Israel
German Foreign Minister Heiko Maas expressed his solidarity with Israel during a trip to the country on Thursday, saying it must be able to protect itself against Hamas rocket strikes.
"As long as there are states and groups that threaten Israel with destruction, it must be able to protect its people. Germany will continue contributing to making sure it stays that way," he said.
Maas stressed that Germany supported international efforts for a ceasefire and believed that violence needed to end as soon as possible "in the interest of the people."
"We are convinced that a life of lasting security and peace will only be possible once Israelis and Palestinians on both sides will live independently," he added.
---
Thousands of dollars raised for Gaza bookstore destroyed in Israeli attack
A GoFundMe page that has been set up to help the owner of the Samir Mansour bookshop rebuild his store has raised over $70,000.
The bookshop, destroyed after Israel targeted the Kuhail building in Gaza City on Monday, was known and beloved by many Palestinians. Images of tattered books lay in the street, their covers ruined.
Following the Israeli bombardment of the Kahil building on Al-Thalathini Street, the "Samir Mansour Library" was founded beneath these rubble. The library, which smiled at passers-by and readers and was loved by all, became a relic in the blink of an eye; praise be to Allah 🙏🏼.. https://t.co/unLULbJ2Dd

— Marah Qoud| مَرَحْ قُعُدْ 𓂆 (@QoudMarah) May 19, 2021
Shaaban Aslem, the owner, was interviewed in the aftermath and fought back tears as he said he lost his dream.
"I've gone without many meals to make this dream come true," he said.
---
At least 75,000 Palestinians displaced due to Israeli attacks: UN
At least 75,000 Palestinians have been displaced due to the ongoing Israeli attacks on Gaza, the UN said on Thursday.
"Overall the situation remains alarming," Jens Laerke, spokesman for UN Office for the Coordination of Humanitarian Affairs (OCHA), told Anadolu Agency.
"Hostilities between Israeli forces and armed groups in Gaza continued for the ninth day yesterday, but at a lesser intensity. On the other hand, clashes between Palestinians and Israeli forces across the West Bank, including in East Jerusalem, intensified," he said.
"All parties to the fighting must agree to a humanitarian pause until a ceasefire is reached, to ensure access into and out of Gaza for humanitarian staff and critical goods, and allow for safe emergency relief distribution inside Gaza."
---
OIC diplomats gather in New York ahead of UNGA session on Palestine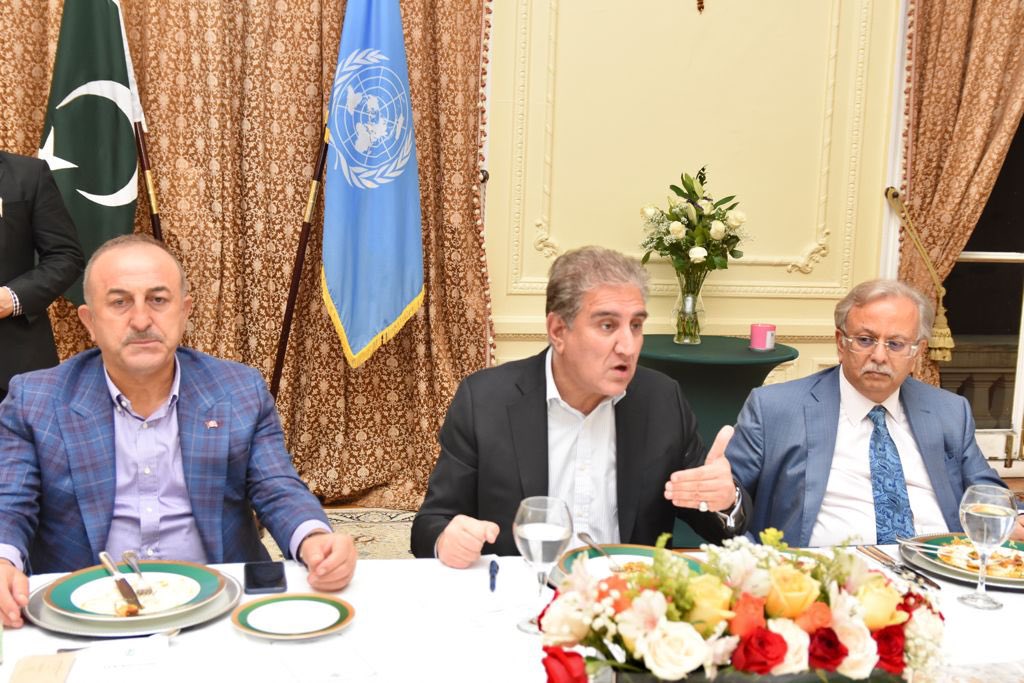 Top diplomats of several Muslim countries gathered in New York on Wednesday ahead of Thursday's UN General Assembly's special meeting on the situation in Palestine.
Pakistan's Foreign Minister Shah Mahmood Qureshi hosted a working dinner, which was attended by Turkish Foreign Minister Mevlut Cavusoglu, Palestine's Foreign Minister Riad Al-Malki, Tunisia Foreign Minister Othman Jerandi, President of the UN General Assembly Volkan Bozkir and envoys of OIC countries in the UN, according to a statement by Pakistan mission to the UN.  Read more here
---
Israeli air raid kills disabled man, pregnant wife, child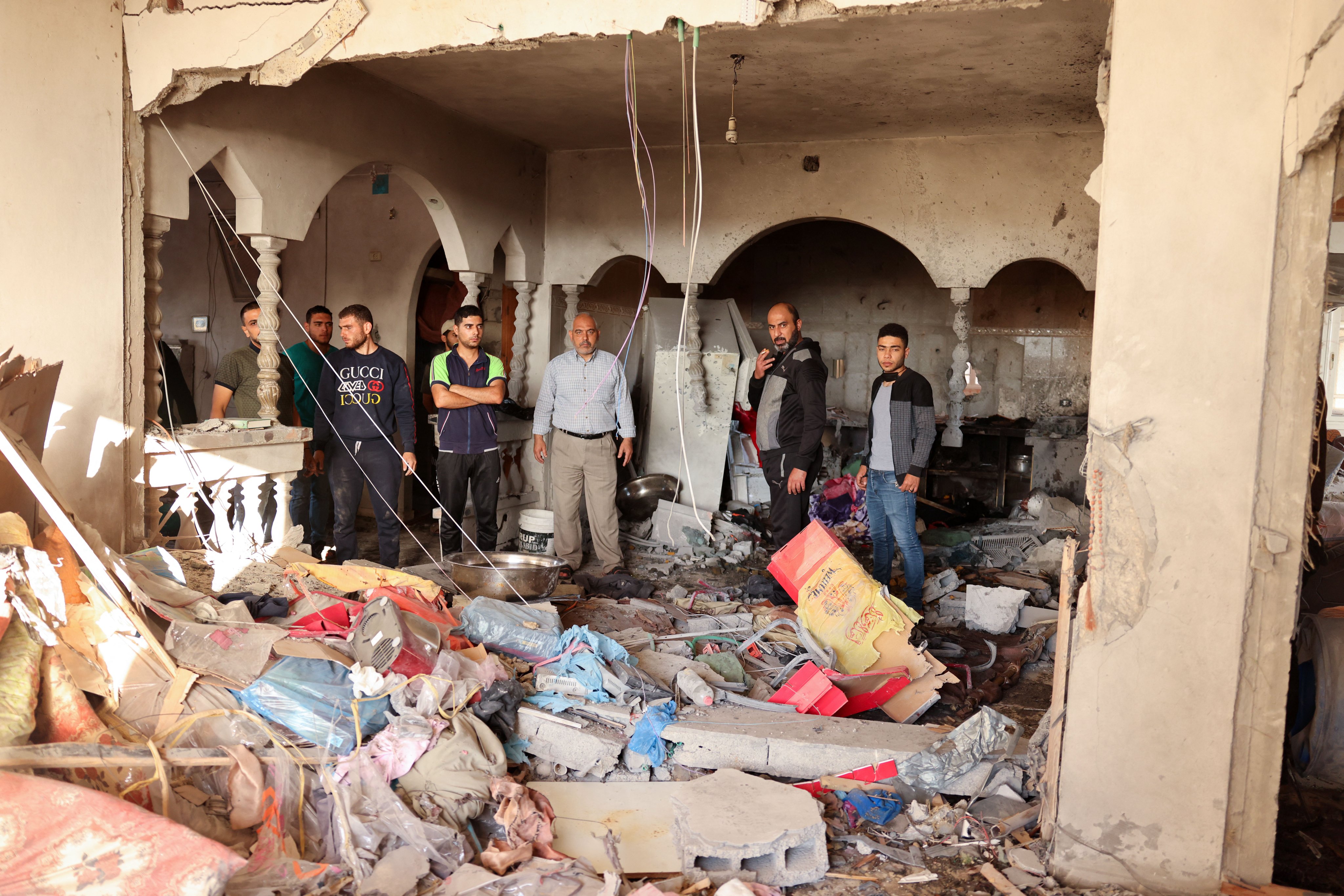 An Israeli air raid on a Gaza family home has killed a Palestinian man with disabilities, his pregnant wife and their three-year-old daughter, the Gaza health ministry.
Eyad Salha, 33, his pregnant wife of the same age Amani, and their daughter Nagham were getting ready to eat lunch on Wednesday when a missile tore through the seaside building's facade and destroyed all three rooms in their Deir el-Balah flat, in the central Gaza Strip.
---
Four children wounded in missile attack in Gaza City
Seven civilians, including 4 children, were injured in a missile strike on a house belonging to the Isleem family in al-Sabra neighborhood in central Gaza City, local Palestinian agencies reported.
Israeli air attacks continued to target the Gaza Strip, destroying a house in al-Mashtal area northwest of Gaza City.
The Saftawi area, north of the city, has been targeted with a number of missiles. The entrance to the Nuseirat refugee camp was bombed, and a house in al-Bureij refugee camp was targeted.
Israel has also fired dozens of artillery shells towards homes and agricultural lands in the eastern and northern border areas of the Strip.
---
Israel, Hamas ceasefire could 'come as early as Friday', says WSJ
A ceasefire between Israel and Hamas could "come as early as Friday", the Wall Street Journal (WSJ) reported, citing US and foreign officials involved in the discussions.
Egyptian officials have made headway in negotiations with Hamas' leadership, the newspaper said, while the Israeli military has privately conceded that it is nearing the completion of its objectives.
An unnamed US official told the WSJ a mechanism was in place for a cease-fire and that the "only issue is timing".
The official also noted members of the Palestinian Islamic Jihad, another Gaza-based armed group, remained a wild card.
---
Hamas official predicts a truce 'within a day or two'
Moussa Abu Marzouk, a senior Hamas political official, has predicted a ceasefire within days in the Israeli-Gaza escalation.
"I think that the ongoing efforts regarding the ceasefire will succeed," he told Lebanon's al-Mayadeen TV. "I expect a ceasefire to be reached within a day or two, and the ceasefire will be on the basis of mutual agreement."
An Egyptian security source told Reuters the sides had agreed in principle to a ceasefire after help from mediators but details were still being negotiated in secret.
---
One Palestinian woman killed in Gaza
At least one Palestinian was killed and 13 others were wounded in the latest Israeli air attacks on Gaza, the Palestinian Wafa news agency reported.
Huda al-Khuzindar, 32, was killed after Israeli warplanes targeted a neighbouring house belonging to the Khawaldeh family in Khan Younis.
A Wafa correspondent in Gaza said Israeli fighters jets carried out a minimum of 30 air raids that targeted roads and homes in Gaza City, Jabalia and Khan Younis.
---
Palestinian groups 'fire 80 rockets overnight'
Palestinian groups in Gaza fired 80 rockets and mortar shells towards southern Israel between 7pm on Wednesday and 7am on Thursday, the Times of Israel reported, citing the Israeli military.
The Israeli air defence system intercepted a majority of the rockets and there were no reports of injuries, according to the website.
The last rocket was launched at 1am local time, it added.
---
US opposes France's draft UN resolution
Washington has opposed a proposed UN Security Council resolution, drafted by France, that urged a ceasefire between Israel and Hamas, according to the Associated Press news agency.
A spokesperson for the US mission to the UN reiterated Washington's stance that a public statement could interfere with Biden's efforts to end the hostilities.
"We've been clear and consistent that we are focused on intensive diplomatic efforts under way to bring an end to the violence and that we will not support actions that we believe undermine efforts to de-escalate," the spokesperson told AP on the condition of anonymity.
Diplomats said the rest of the 15-member body supported the French draft.
---
US Democrats urge Biden to facilitate Israel-Palestine truce
More than 130 Democratic members of the US House of Representatives called on Biden to "facilitate the immediate cessation of violence" between Israel and Hamas and to "press both sides to quickly negotiate a ceasefire".
"The alternative is an unfolding human tragedy of unimaginable dimensions," the letter said.
Alongside over 130 members of Congress, I am urging @POTUS to demand an immediate cease-fire in Israel & Palestine.

No more lives should be lost. pic.twitter.com/jEc2uZcgOS

— Rep. Mark Pocan (@repmarkpocan) May 19, 2021
---
Several Palestinians wounded in Israeli raids
At least nine Palestinians were wounded in an Israeli attack on a house in the city of Khan Younis in southern Gaza, according to medics.
Eight others were wounded in an air raid on a residential building in Jabalia in nothern Gaza.
---
Israel launches dozens of air raids on Gaza
Israel continued to pound the Gaza Strip with airstrikes early on Thursday.
A number of loud explosions rattled the Palestinian territory, with bright orange flashes lighting up the pre-dawn sky.
---
Ilhan Omar decries AIPAC attack ads as 'desperate and deeply offensive'
This is desperate and deeply offensive.

The rights of Palestinians and all people yearning for freedom and self-determination will not be ignored and no level of harassment will silence me or the millions of people demanding peace and justice. https://t.co/JK3I0xcAjz

— Ilhan Omar (@IlhanMN) May 19, 2021
Representative Ilhan Omar, one of the first two Muslim women elected to Congress, has slammed the American Israel Public Affairs Committee (AIPAC) lobby group for its recent fundraising campaign focused on attacking progressive members of Congress who have called for human rights conditions to be placed on US aid to Israel. 
"This is desperate and deeply offensive," Omar said of the AIPAC ads. 
"The rights of Palestinians and all people yearning for freedom and self-determination will not be ignored and no level of harassment will silence me or the millions of people demanding peace and justice," she continued.
---
Some 12 Foreign Ministers To Take Part In UN General Assembly Hearing On Palestine, Israel
About a dozen foreign ministers will take part in the United Nations (UN) General Assembly hearing on the Israeli-Palestine conflict which is scheduled for Thursday, the Spokesperson for the President of the General Assembly, Brenden Varma, said on Wednesday.
"I can tell you that we're expecting around a dozen ministers, I don't have Names to share at this point," Brenden said during a briefing.
It is going to be the first in-person meeting at the ministerial level since the beginning of the coronavirus pandemic last year.
Earlier on Wednesday, US President Joe Biden in a phone call with Israeli Prime Minister Benjamin Netanyahu said he expects significant de-escalation in the ongoing violent conflict with Palestine later in the day. However, Netanyahu said he is determined to continue Israel's operation in Gaza until calm is restored.
---
Death toll in Gaza rises
Israeli air strikes have killed at least 227 Palestinians in the Gaza Strip during the past ten days, the local Ministry of Health has reported. Of those killed, at least 64 were children,  38 were women and 17 were elderly men. 
At least 1,620 people have been wounded, the ministry said. 
Meanwhile, the Israeli military has just said that its air strikes have killed 150 members of the Hamas and Islamic Jihad movements – a figure that does not seem to line up with the Gaza health ministry's death toll report. 
---
US On French UNSC Draft On Gaza: We Will Not Support Steps Undermining De-Escalation
The United States will not support actions that undermine the diplomatic efforts it leads to de-escalate the conflict between Israel and Palestine, a spokesperson for the US mission at the United Nations told Sputnik on Wednesday when asked about the France-led draft resolution on Gaza.
On Tuesday, France, together with Tunisia, Egypt and Jordan prepared a draft resolution calling for a ceasefire in the Gaza Strip and humanitarian access.
"We've been clear and consistent that we are focused on intensive diplomatic efforts underway to bring an end to the violence and that we will not support actions that we believe undermine efforts to de-escalate," the spokesperson said when asked whether the United Nations will support the resolution.
If blocked, the draft resolution would become a fourth failed attempt of the UN Security Council to speak in one voice against the hostilities in the middle East.
According to diplomats at the United Nations, all previous attempts to issue a statement on the renewed conflict were also blocked by Washington.
---
Israel Refused Transportation Of Humanitarian Aid, UN Commissioner's Visit To Gaza – UNRWA
Israel has refused access to the Gaza Strip via the Kerem Shalom checkpoint to UN humanitarian assistance and the Commissioner-General of the United Nations Relief and Works Agency for Palestine Refugees in the Near East (UNRWA), the agency's spokesman, Adnan Abu Hasna, told Sputnik.
"The Israeli authorities have refused the delivery of humanitarian aid and not given consent yet to the visit of the UNRWA Commissioner-General to the Gaza Strip," Abu Hasna said. Read more here
---
Arab League accuses Israel of ethnic cleansing
The Arab League parliament has convened an extraordinary meeting in Cairo to express solidarity with the Palestinians and condemn Israeli strikes on the Gaza Strip.
The Arab League Secretary-General Ahmed Aboul Gheit said: "The truth is becoming crystal clear now with all its ugliness and hideousness: we are before a colonising people that lives under an apartheid state and an occupation government that systematically practices ethnic cleansing."
Others also criticised Israel, with Arab parliament speaker Adel Al-Asoumi accusing Israel of "war crimes and of full-fledged crimes against humanity".
---
France urges truce, 'diplomatic action': Le Maire
French Finance Minister Bruno Le Maire told Al Jazeera from Paris: "I think that President [Emmanuel] Macron has been very clear, diplomacy cannot be blocked on this long-running conflict."
"There is a need for a ceasefire, there is a need for diplomatic action and that's why President Macron has proposed this initiative with Egypt and Jordan," he said.
"I think these are very positive initiatives, and once again I think everywhere in the world, everybody is waiting for a ceasefire, is expecting a ceasefire [and] that's exactly the road that has been proposed by France and by President Macron."
Israel shells Lebanon in response to rocket fire
Four rockets were fired from southern Lebanon towards Israel, in the third such attack in less than a week, a Lebanese military source told the AFP news agency.
The rockets were fired from near the village of Seddiqine in the district of Tyre, the source said, without specifying who was responsible.
The Israeli army confirmed the attack, saying it retaliated with artillery fire.
"Four rockets were fired from Lebanon into Israeli territory" and Israel's air defences intercepted one while the rest "likely fell in open areas", it said in a statement.
---
British actor Idris Elba calls for stopping the bloodshed in Palestine
British actor Idris Elba has condemned the "brutality and bloodshed" in Palestine caused by Israeli air strikes in the Gaza Strip.
In a post on Instagram, he urged the world powers to intervene before more people die.
"Too many lives are being lost right now for it not to be on the forefront of all our awareness," he wrote.
"It's the brutality and bloodshed that has compelled me to raise concern. IT HAS TO STOP, there needs to be more intervention before more people die." Read more here
---
Turkey rejects US statement accusing Erdogan of 'anti-Semitism'
Turkey's Foreign Ministry has completely rejected the US Department of State's statement accusing President Recep Tayyip Erdogan of anti-Semitism.
In a statement, the ministry called on the US administration to make efforts to stop Israel's incessant attacks on Palestinian civilians, instead of levelling false accusations against the Turkish leader.
The use of "anti-Semitism" phrase should not be employed to cover up Israel's ethnic, religious and cultural cleansing policies, the statement noted. Read more here
---
Biden tells Israel's Netanyahu during call 'that he expected a significant de-escalation today on the path to a ceasefire': White House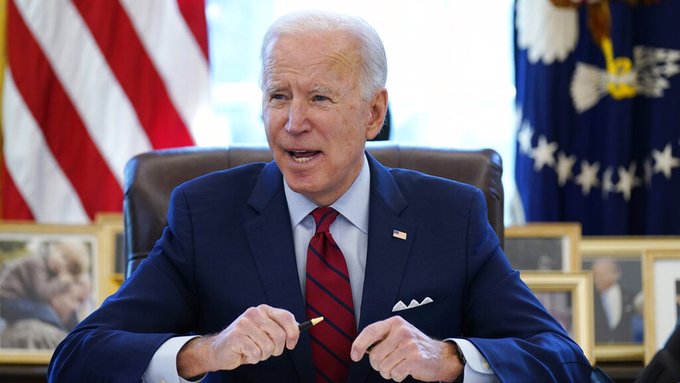 ---
Hamas chief calls on Indonesia to rally global support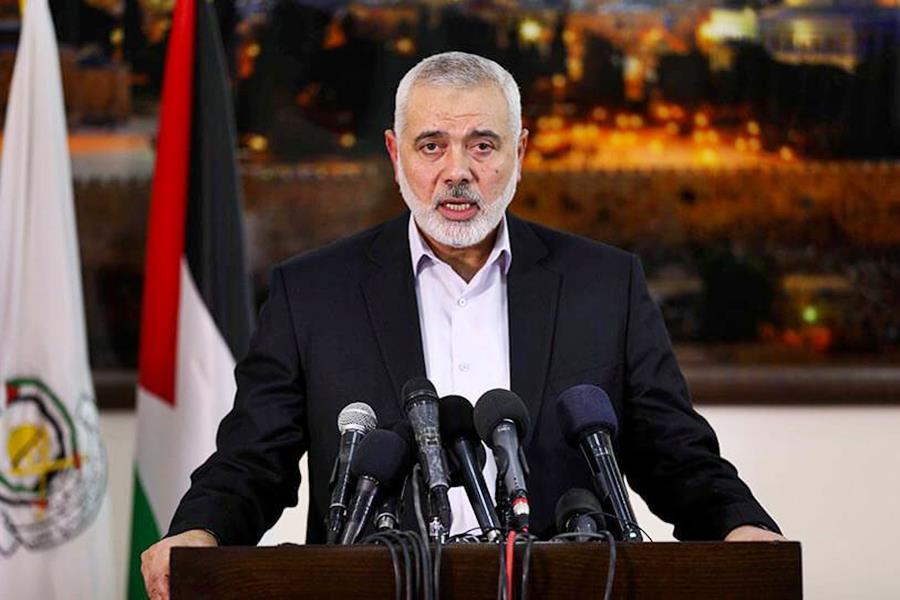 Hamas chief Ismail Haniyeh on Tuesday wrote to Indonesian President Joko Widodo about the escalating Israeli aggression in Palestine.
"We call upon you to act urgently, and to mobilize Arab, Islamic and international support, to take a clear and firm position to oblige the occupation an immediate end of aggression and terror practiced by the Israeli occupation against the besieged Gaza Strip," Haniyeh said in his letter. Read more here
---
Yousef Abu Husain, a photojournalist who was killed when his house was targeted by Isareli strikes.
His son is giving his father a final goodbye.
Photo Courtesy: Times of Gaza#AlAqsaMosque #Jerusalem #Israel #Palestine #SheikhJarrah #Gaza pic.twitter.com/RjXKnTgnyl
— INDEPENDENT PRESS (@IpIndependent) May 19, 2021
---
Man United's Paul Pogba finds support after showing solidarity with Palestine
.
Manchester United manager Ole Gunnar Solskjaer said the views of players have to be respected after Paul Pogba and Amad Diallo held up a Palestine flag following Tuesday's 1-1 Premier League draw with Fulham. Read more here
---
Four people killed in Gaza
Israeli air raids killed at least four people in Gaza, destroyed seven residential houses, a youth centre in the southern town of Khan Younis and a charity centre in Rafah, local media reported.
The four Palestinians killed include a journalist in Gaza City's western area of Radwan and a family composed of husband, wife and son after their apartment was hit in Gaza City.
Members of the al-Astal family, whose house was among those destroyed overnight, said that a warning missile struck the building five minutes before the airstrike, allowing everyone to escape.
---
50 schools in Gaza, three in Israel damaged
Fifty schools in Gaza have been damaged by Israeli air raids over the past week, according to Save the Children, impacting a total of 41,897 children.
Three further schools have been damaged in Israel by rockets fired from Gaza, according to UNICEF.
---
UNRWA appeals for immediate humanitarian access
UNRWA is "deeply worried" about the humanitarian crisis unfolding in Gaza, while it appealed for the immediate opening of the Erez and Karam Abu Salem crossings into the enclave.
The two crossings would enable the movement of critical humanitarian personnel, such as security officers, trauma coordinators and humanitarian supplies.
The ongoing hostilities are also taking place along a COVID-related health crisis in the Palestinian territories. "The pandemic, with people crowding seeking refuge, remains a serious emergency: Gaza and the West Bank just had the highest COVID-19 outbreaks recently, worse than India in terms of rate," read a statement from the UN agency for Palestinian refugees.
---
21 Palestinians arrested in the occupied West Bank
The Israeli police arrested 21 Palestinians protesters in various cities across the occupied West Bank, according to Wafa news agency.
Three were arrested in the city of Hebron, three in Nablus, three in Jenin and four on Bethlehem, local media reported.
---
Chile's Palestine community protest against Israeli raids
Chile's Palestinian community – the largest outside the Middle East, with more than 300,000 people – staged a protest in Santiago on Tuesday, denouncing Israel's deadly air attacks against Gaza.
More than 1,000 people met at the Club Palestino football headquarters in eastern Santiago, the AFP news agency reported.
Maurice Khamis, president of the Palestinian Community of Chile, said the protesters wanted to add "to the demonstrations that have taken place around the world… and also to support the hundreds of Palestinian civilian victims who have died in these Israeli attacks and bombings".
---
Israel dropped 122 bombs on Gaza in 25 minutes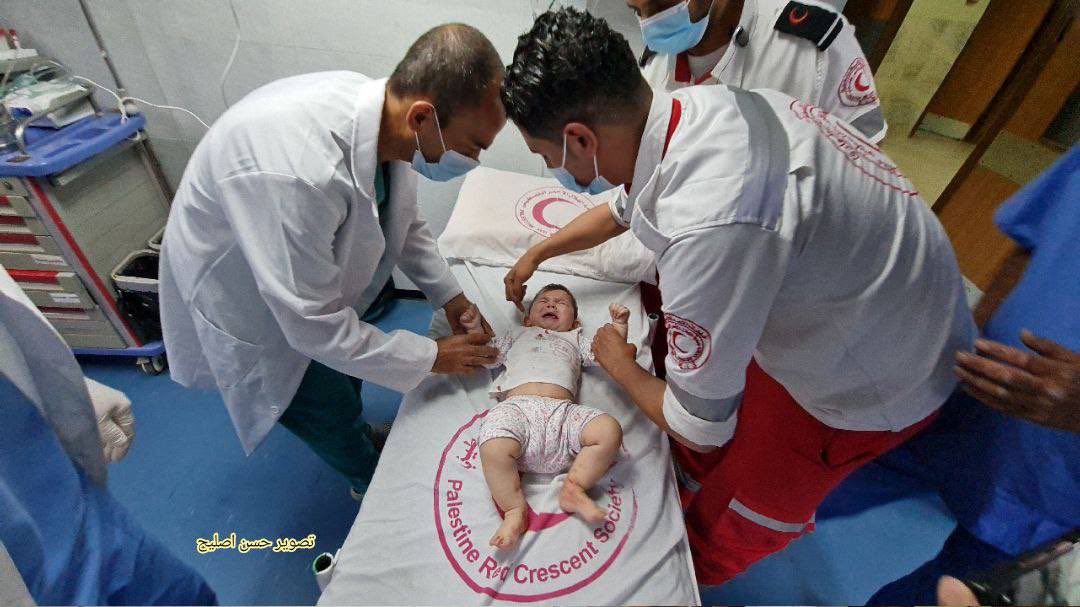 The Israeli military dropped 122 bombs on Gaza during a 25 minute period on Tuesday night, the Times of Israel reported.
The raids, which began at 10pm local time, targeted an underground Hamas tunnel network in Gaza, the website said, quoting military spokesman, Hidai Zilberman.
---
Radio journalist killed in Gaza
A fourth Palestinian was killed in Israel's continuing raids on Gaza Strip, according to local media.
Yusef Abu Hussein was a journalist at the radio station, al-Aqsa Voice, according to the Wafa news agency and the Shehab news agency.
ارتقاء الصحفي في إذاعة صوت الأقصى يوسف أبو حسين جراء قصف منزله فجر اليوم بحي الشيخ رضوان #غزة_الآن #غزة_تحت_القصف #غزة_تقاوم #GazaUnderAttackk pic.twitter.com/rYl3kU4qtP

— وكالة شهاب للأنباء (@ShehabAgency) May 19, 2021
---
Israeli jets hit Gaza, three Palestinians killed
Israel continued to bomb the Gaza Strip as dawn approached on Wednesday, according to local media reports, hitting a residential building in central Gaza City and killing at least three Palestinians.
Three others were also wounded, the Wafa news agency said.
Palestinian armed groups also continued firing rockets towards Israel. An AFP photographer reported streaks of light in the sky late on Tuesday as Israel's air defence system intercepted the rockets.
---
UN chief appeals for humanitarian funding for Gaza
Antonio Guterres, secretary-general of the UN, called on the international community to ensure adequate funding for the global body's humanitarian operations in Gaza.
"We are seeing immense human suffering and extensive damage to homes and vital infrastructure in Gaza," he said in a tweet.
We are seeing immense human suffering and extensive damage to homes and vital infrastructure in Gaza.

I call on the international community to ensure adequate funding for our humanitarian operations in Gaza. https://t.co/lbKUIbhulU

— António Guterres (@antonioguterres) May 18, 2021
Earlier, the UN's humanitarian chief Mark Lowcock called on Israel to provide "unimpeded humanitarian access" to Gaza.
"The crossings with Gaza need to be opened and to remain as such for the entrance of essential and humanitarian supplies, including fuel for basic services and supplies to curb the spread of COVID-19," he said in a statement.
I'm deeply concerned by the ongoing hostilities between the occupied Palestinian territory and Israel.

In order to support civilians caught in the crisis, we need adequate funding for the response and unimpeded humanitarian access.

My statement: https://t.co/FAFtCf3bt6

— Mark Lowcock (@UNReliefChief) May 18, 2021
---
US House speaker Pelosi urges ceasefire to end Gaza, Israel violence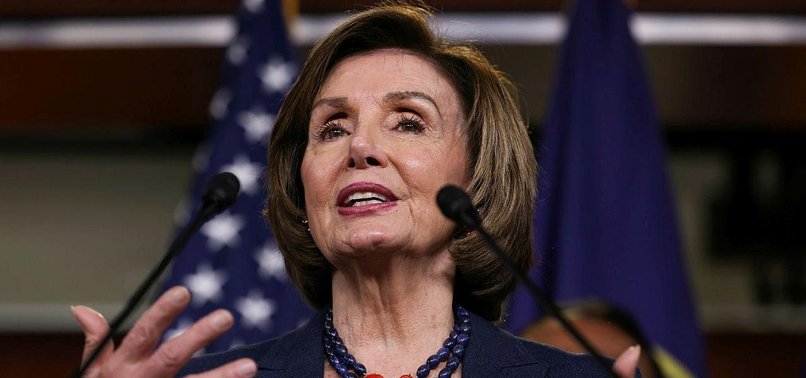 House Speaker Nancy Pelosi called for a ceasefire on Tuesday to end ongoing hostilities in Israel and the Gaza Strip as the death toll continues to mount.
"After more than a week of hostilities, it has become even more apparent that a ceasefire is necessary," the top Democrat in the House of Representatives said in a statement.
"There must be a serious effort on the part of both parties to end the violence and respect the rights of both the Israeli and Palestinian people."
---
Israel PM asks US for 2 more days to end Gaza offensive: sources say
Israeli Prime Minister Benjamin Netanyahu has asked the US administration for two to three days before ending his military operation in the Gaza Strip, sources familiar with ceasefire talks between Israel and Palestinian factions told Anadolu Agency.
The sources, who spoke on condition of anonymity, said the Israeli request came after Washington asked Netanyahu on Sunday and Monday to end the aggression on the besieged territory.
Meanwhile, Barak Rafid, the political correspondent of local Israeli media outlet Walla, told CNN that the army will "need 24-48 hours to complete the operation in Gaza".
"The message of [US President] Joe Biden's administration to Israel is that the time for [halting] the operation is running out," he said.
---
Blinken Insists US Not 'in The Way Of Diplomacy' At UN
US Secretary of State Antony Blinken on Tuesday insisted the US was "not standing in the way of diplomacy" in the UN by not backing a Security Council statement on the Israeli-Palestinian conflict. 
"We're not standing in the way of diplomacy. On the contrary… we're exercising it virtually non stop," Blinken told a Reykjavik press conference when asked about the critique.
Blinken, who was visiting the Icelandic capital ahead of an Arctic Council meeting of foreign ministers on Wednesday and Thursday, stressed that the US was "engaged in quiet, but very intensive diplomacy.
" The US top diplomat added that "the question is, would any given action or any given statement actually advance the goal of ending the violence," signalling their belief that the drafted UN Security Council resolution could be counter-productive.
"If we think, going forward, that there's something, including at the United Nations, that would actually effectively advance the objective, we would be for it. But right now we are very focused on this intensive diplomacy with the objective of bringing the violence to an end," Blinken said.
---
Palestine Urges Guterres To Immediately Issue Humanitarian Aid To Gaza – Envoy To UN
Palestinian Ambassador to the United Nations Riyad Mansour on Tuesday called on UN Secretary-General Antonio Guterres to immediately issue emergency humanitarian assistance to Gaza.
"We want from the Secretary-General to issue immediately an emergency humanitarian assistance to the tragedy that exists in the Gaza Strip," Mansour said during the UN Forum on the Question of Palestine.
Mansour said the assistance is urgent for more than 50,000 Palestinians who have already been displaced due to the ongoing violence.
---
Palestinian killed, dozens wounded in West Bank
The Palestinian Health Ministry says a Palestinian protester has been killed and dozens more were wounded when gunshots rang out at a large demonstration in the occupied West Bank.
The Israeli military says protesters opened fire at troops. It says two soldiers were shot in the leg and had to be hospitalised. Palestinian protesters often clash with Israeli troops in the West Bank but the demonstrators are rarely armed.
The Health Ministry identified the deceased as 25-year-old Muhammad Hamid. It says 46 others were wounded, including 16 with bullet wounds. It says four of them are in serious condition.
---
Turkey never to stop backing Palestine: Foreign minister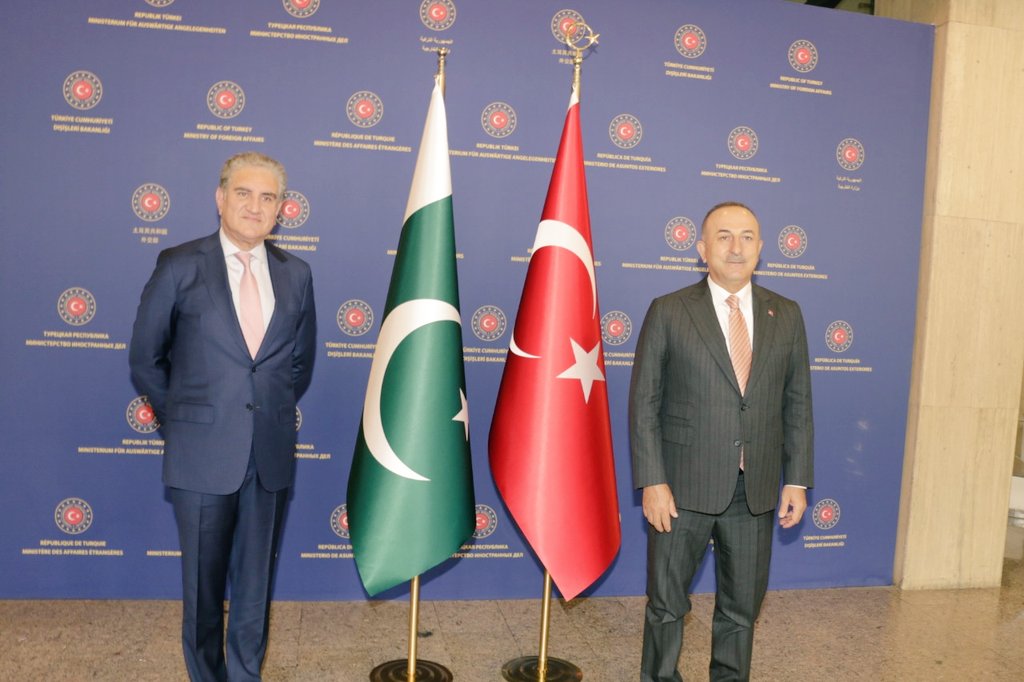 Ankara will "never give up supporting the Palestinian cause", Turkish Foreign Minister Mevlut Cavusoglu has told lawmakers in parliament.
Asserting that the atmosphere in Turkey on the Palestinian issue was one of joint solidarity, Cavusoglu said: "We need to be sensitive on preserving this.
"It is the duty of all of us to be careful not to carry this issue into the competitive language of domestic politics and not to make oppressed people happy who have the same mentality with [Israeli Prime Minister Benjamin] Netanyahu," he said.
---
1,700 Palestinians arrested by Israel since April: NGO
Israeli forces have detained 1,700 Palestinians since April 13, according to a Palestinian NGO.
In a statement, the Palestinian Prisoner Society said more than 400 people were arrested in occupied East Jerusalem and 450 others in other areas across the occupied West Bank.
According to the statement, more than 850 Palestinian Israelis were arrested by Israeli police since May 9.
---
Egypt pledges $500m to rebuild Gaza, sends medical aid
Egyptian President Abdel Fattah al-Sisi has pledged $500m to help reconstruction efforts in Gaza, his office has said.
"Egypt will provide $500m… for the reconstruction process in the Gaza Strip as a result of recent events, with expert Egyptian construction companies implementing the rebuilding," the presidency said in a statement.
Cairo has sought to mediate a ceasefire between Gaza's Hamas and Israel.
---
Two killed in strike launched from Gaza: Police
Israeli police say two Thai workers inside Israel have been killed in a strike launched from the Gaza Strip.
Seven others were wounded in the afternoon attack that hit a packaging plant in southern Israel, police said.
---
Israel says it reshuts Gaza crossing after mortar fire
Israel said it had closed a crossing into Gaza shortly after opening it to allow in humanitarian goods, after mortars were fired at the area as aid trucks passed through.
Israel had opened the Karam Abu Salem crossing to allow in "trucks carrying civil aid donated by international aid organisations to the Gaza Strip," said COGAT, the Israeli military branch responsible for civil affairs in the Palestinian territories.
"After a firing of mortar bombs towards the Kerem Shalom Crossing … it has been decided to stop the entry of the rest of the trucks," the COGAT statement said.
AP news agency quoted Israeli medics saying that 10 people were wounded, four seriously, after a rocket attack from Gaza targeted southern Israel.
---
Israeli police fire tear gas to disperse Palestinian protesters
Israeli police in Bethlehem have fired tear gas, injuring at least seven Palestinian protesters, Al Jazeera's Harry Fawcett reported from the scene.
Injuries were also reported at a checkpoint in Ramallah, where Israeli police also used tear gas against protesters.
Palestinians also held rallies in other cities, including Nablus and Hebron, amid a general strike.
---
France, Egypt, Jordan to hold talks seeking ceasefire
France's President Emmanuel Macron, his Egyptian counterpart Abdel Fattah el-Sisi and Jordan's King Abdullah II will hold talks aimed at seeking a ceasefire in the continuing conflict, the French presidency said.
"The trilateral meeting aims above all to work for a rapid ceasefire and prevent the conflict from extending," the presidency said.
---
More than 58,000 Palestinians displaced in Gaza: UN
More than 58,000 Palestinians have been displaced by Israeli air strikes that have destroyed or badly damaged nearly 450 buildings in the Gaza Strip, according to the United Nations Office for the Coordination of Humanitarian Affairs (OCHA).
About 47,000 of the displaced people have sought shelter in 58 UN-run schools in Gaza, Jens Laerke, OCHA spokesman, told reporters.
Laerke also said 132 buildings had been destroyed and 316 had been severely damaged, including six hospitals and nine primary healthcare centres.
---
Demonstration in support of Palestine in Tokyo, the capital of Japan, demanding an end to Israeli attacks.#Gaza #Israel #Palestine #AlAqsaMosque #Jerusalem pic.twitter.com/7yNqWmFyHI

— INDEPENDENT PRESS (@IpIndependent) May 18, 2021
---
Israeli police removes MEE correspondent's hijab while reporting in Jerusalem
Israeli forces beat, pepper-sprayed and removed the head-covering of MEE correspondent Latifeh Abdellatif while she was filming the detention of a young boy in occupied East Jerusalem.
Covering the nationwide Palestinian general strike in the Old City's Damascus Gate, Abdellatif reported seeing a child being detained by Israeli forces.
His father and other Palestinians nearby tried to stop Israeli forces, which sparked a confrontation. Abdellatif then tried to film the incident but she was pushed around by Israeli officers, despite making it clear to them that she was a journalist.
---
US Received Further Information About Airstrike On Media Tower In Gaza – Blinken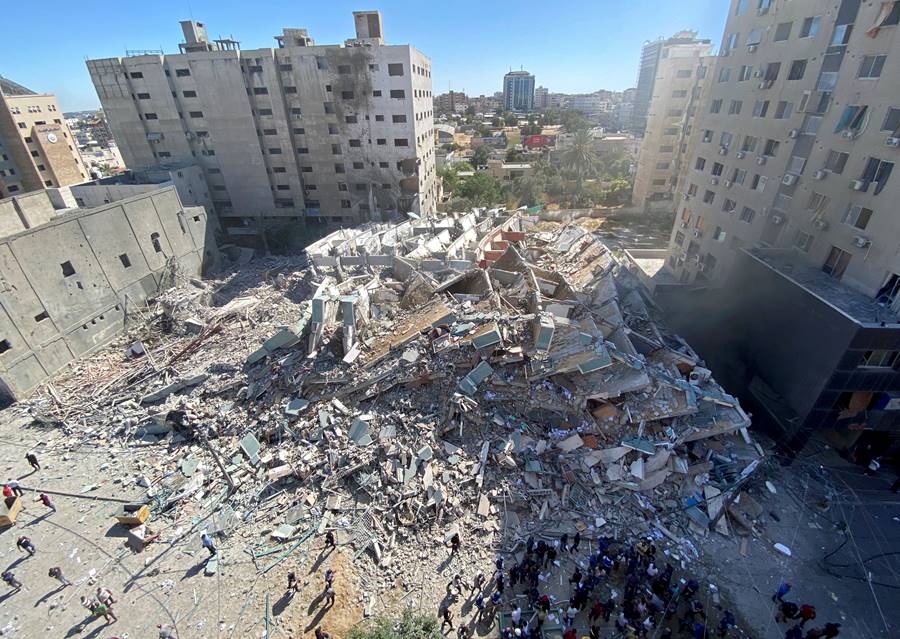 US Secretary of State Antony Blinken said on Tuesday that his country had received more information on the Israeli airstrike that tore down a high-rise housing the offices of the Associated Press, Al Jazeera and other outlets in the city of Gaza.
"We did seek further information from Israel on this question.
It's my understanding that we've received some further information through intelligence channels and that's not something I can comment on," he said after a press conference with the Icelandic foreign minister.
Israel said the media tower contained military intelligence assets of the Hamas movement, which controls the Gaza Strip. The New-York based AP said no one was killed in the attack but described it as a close call.
---
Israeli forces kill Palestinian man in Hebron checkpoint
Israeli forces killed a Palestinian man at a checkpoint in the West Bank city of Hebron in the early hours of Tuesday morning.
Images and videos posted on social media showed Islama Fayyad Zahda, a 31-year-old man, lying dead outside a checkpoint after Israeli forces shot him.
Witnesses told the Wafa news agency that Israeli forces opened fire on Zahda and prevented medical teams from approaching his body where he died from his wounds.
In a statement, the Israeli army said the man was carrying an improvised gun, an explosive device and a knife, MEE's Shatha Hammad reported.
It added the man allegedly approached a gathering of soldiers near illegal settlements in the city. No soldier was hurt in the alleged attack.
---
Pakistan cabinet decides to send medical aid to Palestine on humanitarian grounds
Federal cabinet has decided to send medical aid to Palestine on humanitarian grounds in view of the medical emergency faced by the Palestinians as a result of Israeli aggression.
The meeting of federal cabinet was held in Islamabad today (Tuesday) with Prime Minister Imran Khan in the chair.
Later briefing the media persons about the decisions taken in the cabinet meeting, Minister for Information and Broadcasting Chaudhary Fawad Hussain said Prime Minister Imran Khan has provided leadership to the Muslim Ummah from day one on the Palestine issue. This is also recognized by the Muslim Ummah. He said Quaid-e-Azam Muhammad Ali Jinnah laid the foundation of Pakistan's policy on Palestine and Imran Khan is now trustee of it.
The Information Minister said the Palestinian leadership also acknowledges Pakistan's firm stance on the matter.
Foreign Minister Shah Mahmood Qureshi is in Turkey and he along with some other Foreign Ministers of the Muslim countries will go to New York to attend the UN General Assembly session.
---
Borrell, Blinken discussed joint contribution to end violence in Palestine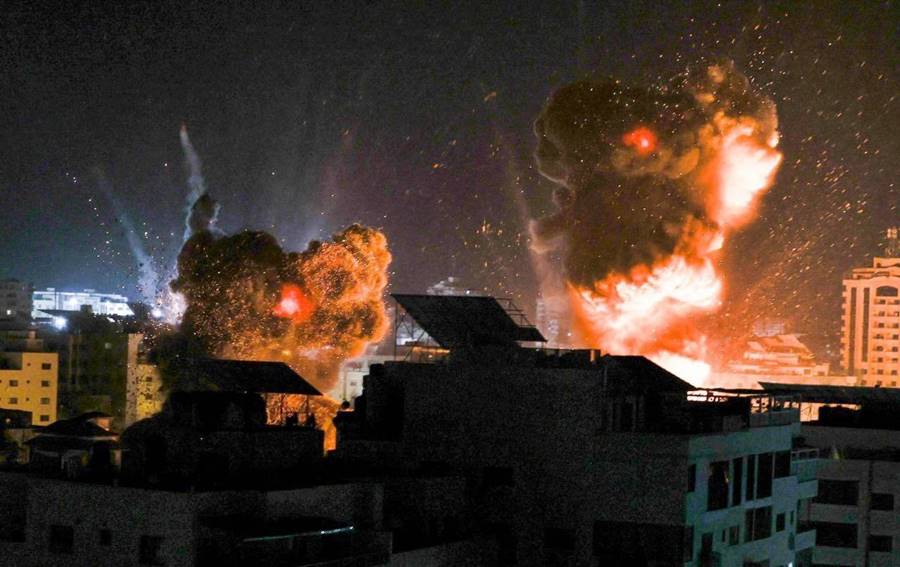 EU High Representative for Foreign Affairs and Security Policy Josep Borrell said on Tuesday that he discussed with US Secretary of State Antony Blinken the possible EU-US cooperation to de-escalate the Israeli-Palestinian tensions.
 "Exchanged with @SecBlinken on how EU and US can jointly contribute to end violence in Israel and Palestine and reduce tensions. Looking beyond, we also need longer term initiatives to break the dynamics of conflict and revive the prospect of a peaceful future for all," Borrell wrote on Twitter.
At least 212 Palestinians, including 61 children, have been killed in Gaza since the attacks began. About 1,500 Palestinians have been wounded. Ten Israelis have died, including two children, while at least 300 Israelis have been wounded
---
Hundreds gather in Ramallah to mark general strike
Thousands strong in Ramallah now. Entire families filling the streets in the name of unity and liberation. #PalestineOnStrike #SaveSheikhJarrahh pic.twitter.com/xsglIABhne

— Rana Nazzal رنا نزال (@rananazzalh) May 18, 2021
Palestinian national strike, Ramallah#Gaza #Israel #Palestine #AlAqsaMosque #Jerusalem pic.twitter.com/y0m9Vl3bxd

— INDEPENDENT PRESS (@IpIndependent) May 18, 2021
Hundreds gathered in the West Bank city of Ramallah to show their support for Palestinians in Gaza and Jerusalem as a general strike continues across the occupied territories and towns in Israel.
MEE Correspondent Faten Elwan was live for Middle East Eye where protests had begun on Tuesday as part of the Karameh (dignity) strikes that will be marked by millions across historic Palestine.
---
Tens of thousands take shelter in Gaza schools
According to the United Nations Relief and Works Agency (UNRWA), over 38,000 people have taken shelter in their schools in Gaza, fleeing from Israeli shelling. 
"There is nowhere to flee in Gaza. Before the relentless bombing had been unleashed the choice was between Covid and hunger, and that was bleak enough," UNRWA's Commissioner General Philippe Lazzarini said on Twitter. 
Many people are seeking safety in the densely populated besieged strip, as many residential buildings have been flattened, after over a week of heavy Israeli bombardment. 
Since the start of the bombardment, over 200 Palestinians have been killed, including over 60 children inside the Gaza Strip.
---
The moment of targeting a residential apartment in Gaza!#Gaza #Israel #Palestine #AlAqsaMosque #Jerusalem pic.twitter.com/dBh0mv6WL1
— INDEPENDENT PRESS (@IpIndependent) May 18, 2021
---
Solidarity with Palestine, Jakarta Indonesia #Gaza #Israel #Palestine #AlAqsaMosque #Jerusalem pic.twitter.com/5hUd5kBuCc

— INDEPENDENT PRESS (@IpIndependent) May 18, 2021
---
Israeli military says it downed UAV near Jordan border
Israeli military said that its forces downed a UAV (unmanned aerial vehicle) that approached Israel's border with Jordan, without specifying where the aircraft might have originated.
---
More blasts in Gaza as day breaks
Israel continued its air raids on Gaza as day broke on Tuesday.
Explosions were heard and balls of fire and plumes of smoke were seen rising from several buildings in Gaza City.
---
Jordan's king blames 'provocative' Israeli actions for escalation
Jordan's King Abdullah II spoke to UN Secretary-General Antonio Guterres on Monday and said it was Israel's "recurrent provocative" actions against Palestinians that have led to the ongoing escalation.
The king also told Guterres that the "international community must shoulder its responsibility, move actively to stop Israeli violations in Jerusalem, aggression on Gaza," the royal court wrote on Twitter.
His Majesty King Abdullah II, in a call with #UN Secretary General António Guterres, reaffirms that the recurrent provocative Israeli actions against Palestinians have led to the ongoing escalation, pushing the region towards more tension#Jordan 🇯🇴🇺🇳

— RHC (@RHCJO) May 17, 2021
---
Blasts in Gaza City as dawn approaches
Explosions lit up the night sky over Gaza City early on Tuesday as Israeli forces continued to shell the Palestinian enclave.
There were about 30 Israeli air attacks overnight, as well as bursts of Palestinian rocket fire.
---
Amnesty condemns US approval of arms sales to Israel
Human rights group Amnesty International has condemned US plans to sell weapons worth $735m to Israel in the midst of the latest conflict with Palestinian armed groups, saying the approval undermines the US commitment to upholding human rights around the world.
"By supplying weapons that could be used to commit war crimes, the US government is taking the risk of fuelling further attacks against civilians and seeing more people killed or injured by US weapons," Philippe Nassif, Amnesty International USA's advocacy director for the Middle East and North Africa, said in a statement urging Biden to reconsider the decision.
---
Gaza images suggest Israel committing 'war crimes', law professor says
Ardi Imseis, a law professor at Queen's University in Canada, said Israel is responding with disproportionate force in the Gaza Strip and probably committing war crimes as a result.
"We have reasonable grounds to believe that war crimes are being committed, violations of international humanitarian law, primarily through lack of respect for the principles of distinction, proportionality and precaution," Imseis told Al Jazeera.
The violations appear to come "primarily from the Israeli side, but not exclusively", Imseis said.
---
US 'delay' in ceasefire support 'has caused slaughter of children': Ilhan Omar
US Congresswoman Ilhan Omar said US President Joe Biden's delay in expressing support for a ceasefire "has caused the slaughter of children and destruction of lives".
The tweet came after Biden told Israel's Benjamin Netanyahu in a phone call that he backed a ceasefire.
Finally!! Our delay in supporting a ceasefire has caused the slaughter of children and destruction of lives.

Now Biden has to push for an end to the occupation. https://t.co/pfgDoIfpK0

— Ilhan Omar (@IlhanMN) May 17, 2021
At least 61 Palestinian children have died since Israel began its bombardment on May 10, following Israeli attacks on Palestinians in occupied East Jerusalem and rocket attacks from the Gaza Strip. Two children in Israel have also died.
---
Biden Approves $735 Million Weapons Sale To Israel
The Biden administration approved a $735 million sale of precision-guided missiles sale to Israel and awaits approval from the House of Representatives, the Washington Post reported on Monday citing sources familiar with the matter.
The White House has officially notified the US Congress of the proposed sale on May 5, just a week before violence between Israel and Hamas escalated, the report added. Read more here
IFJ Africa Calls Israel's Attacks On Journalists War Crimes, Calls For Accountability
The Federation of African Journalists, the regional organization of the International Federation of Journalists (IFJ) affiliates in Africa, on Monday strongly condemned the Israeli armed forces' attacks targeted against media workers and organizations in Palestine.
"The attacks on the buildings housing news media organisations are unjustified and constitute war crimes. Besides the significant material losses occasioned to local and international media organizations by the unjustified attacks, a large number of journalists lost their workplaces and personal belongings, and were lucky to get away with their lives," FAJ President Sadiq Ibrahim Ahmed said, as quoted in the statement. Read more here
---
Israel refuses to open humanitarian corridors
UNRWA Director Matthias Schmale said Israel has not allowed humanitarian corridors during the hostilities.
"In 2014 we had humanitarian corridors where we could move between installations and bring material," he told Al Jazeera.
"They are also striking very close to our installation, so the understanding we had in the past such as keeping some distance in our installation is not being respected sufficiently," he said from Gaza.
Asked about reports suggesting that Israel warned the UN agency that it planned to bomb two UN-run schools, Schmale said he had not received any direct warnings so far.
"We have more than 41,000 people in 50 schools, so it would be of great concern if any of these installations were directly hit," he added.
---
Gaza hospitals struggle with mounting wounded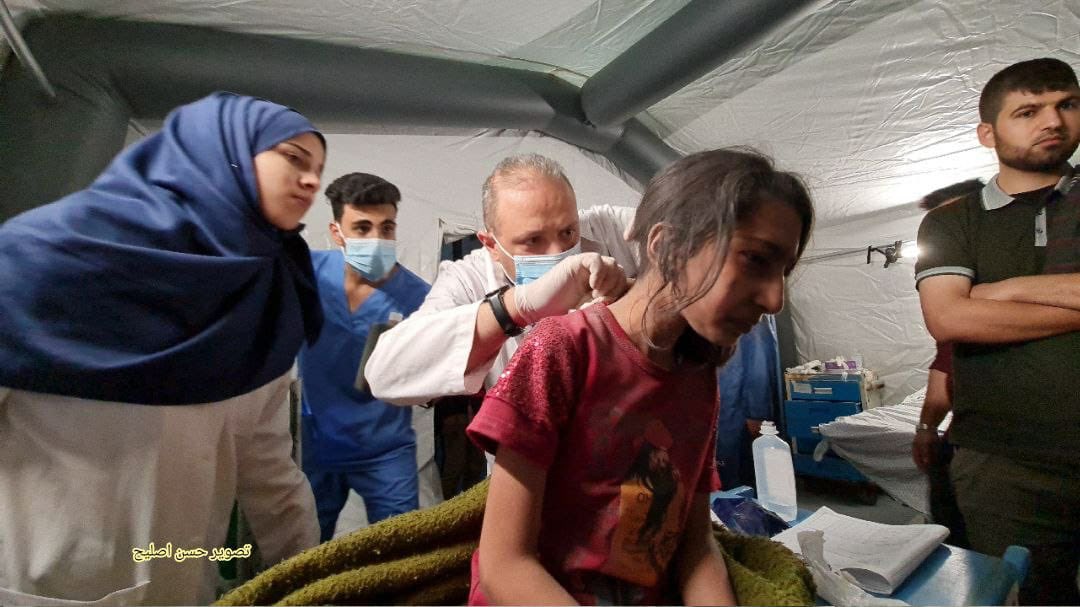 Gaza-based journalist Youmna Al Sayed, reported in front of the al-Shifa Hospital in Gaza City.
"It's an other tense day in the Gaza strip," Al Sayed said, a few minutes after an Israeli missile hit a car a few metres away from her killing three people.
"Hospitals are running out of resources, corridors and all departments, including the administration, are filled with beds and mattresses," she said.
"Electricity comes from one to three hours at best, which is a crisis for hospitals as well while generators are running out of fuel," Al Sayed said, adding that the power crisis triggered a water shortage as well.
---
China calls on US to play constructive role in ending conflict in Gaza 
Foreign Ministry spokesperson Zhao Lijian said China, as rotating head of the Security Council, has urged a cease-fire and the provision of humanitarian assistance, among other proposals, but that obstruction by "one country" has prevented the council from speaking with one voice.
 "We call on the United States to assume its due responsibility and take an impartial position to support the council and play its due role in cooling down the situation and rebuilding trust for a political solution," Zhao said at a daily briefing.
China "strongly condemns" violence against civilians and calls for an end to air strikes, ground attacks, rocket fire and "other actions that aggravate the situation," Zhao said.
Israel should "exercise restraint, effectively comply with the relevant United Nations resolutions, stop demolishing Palestinian people's houses, stop expelling Palestinian people and stop expanding its settlement program, stop threats of violence and provocations against Muslims, and maintain and respect the historical status quo of Jerusalem as a religious holy site," Zhao said.
---
Israeli airstrike kills islamic jihad commander in gaza: reuters
A top commander with the Islamic Jihad militant group in Gaza was killed in an Israeli air strike on Monday, a source in the group told Reuters.
The killing of Hussam Abu Harbeed, Islamic Jihad's armed commander for the northern Gaza Strip, comes amid fierce fighting between Israel and militants in the enclave, including the extremist group Hamas.
In a statement confirming it had killed Harbeed, the Israeli military said he "was behind several anti-tank missile terror attacks against Israeli civilians."
The military said those attacks included one on the first day of the current round of fighting that it said had injured a civilian in Israel.
Harbeed had been a commander with Islamic Jihad for 15 years, the military said.
---
Bosniak leaders slam Netanyahu over tweet
Members of the Bosniak government have criticised Israeli Prime Minister Benjamin Netanyahu for including Bosnia as one of the countries supporting Israel's bombardment of Gaza.
"My message to Prime Minister Netanyahu is that Bosnia and Herzegovina does not and cannot support the killings of innocent civilians in Gaza by Israeli military forces," said member of the country's presidency Sefik Dzaferovic.
Bosnia's Foreign Minister Bisera Turkovic also commented, saying:
"Bosnia and Herzegovina only supports peace and efforts to reach a just solution for Palestine and Israel. No violence leads to lasting peace and stability. On the contrary. We call for and support an immediate end to attacks in which innocent people are killed," she said on social media.
---
Erdogan urges pope to help end Israel's 'massacre'
Turkish President Recep Tayyip Erdogan urged Pope Francis to help end what he called Israel's "massacre" of Palestinians, which should be punished with sanctions, his office said.
Erdogan told the pope in a call that "Palestinians will continue to be subjected to a massacre unless the international community punishes Israel… with sanctions", adding that the pope's messages were of "great importance to mobilise the Christian world and the international community."
---
Celebrities weigh in on attacks on Palestine
Pakistani premier, Malaysia's Mahathir discuss Palestine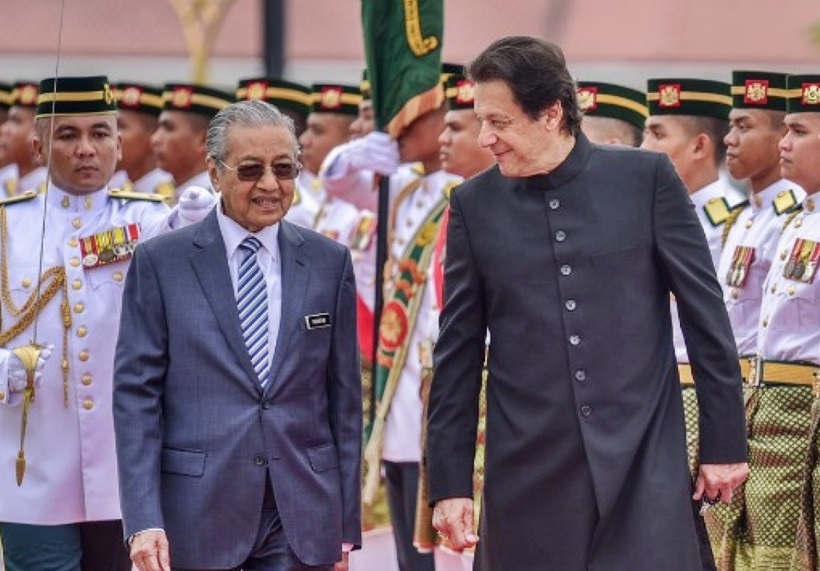 Pakistan's Prime Minister Imran Khan on Sunday spoke with Mahathir Mohamad, former Malaysian premier, over the phone to discuss worsening situation in Palestine after Israeli aggression.
According to a statement by Khan's office, the two decried the ongoing Israeli airstrikes and expressed solidarity with the innocent and defenseless Palestinians.
Khan, for his part, strongly condemned the attacks on innocent worshippers at the Al-Aqsa Mosque in East Jerusalem and airstrikes on Gaza, it said.
"The two leaders underscored the need for the international community to take urgent steps to halt the ongoing attacks, protect the civilians, and facilitate a just and lasting solution based on UN resolutions and two-state vision," the statement added.
---
Israel says it destroyed miles of Hamas tunnels
The Israeli military says it has carried out air raids destroying 15 kilometres (nine miles) of Hamas tunnels in the Gaza Strip and the homes of nine alleged Hamas commanders.
---
Three children injured every hour in Gaza
Almost three children in Gaza have been injured every hour since violence flared last Monday, according to Save the Children.
In the last week, at least 58 children in the enclave territory and two children in southern Israel have been killed. More than a thousand people in Gaza, including 366 children, have also been injured.
"How many more families need to lose loved ones before the international community takes action? Where can children run to when airstrikes rain down on their homes?" said Jason Lee, Save the Children's Palestine country director.
"Families in Gaza, and our staff, are telling us that they are at breaking point – they are living in hell with nowhere to seek refuge and seemingly no end in sight," said Lee.
---
Pakistan's foreign minister 'categorically' condemns Israel's attacks
Pakistan's Foreign Minister Shah Mehmood Qureshi conveyed his "deepest sorrow and condolences" to the Palestinian ambassador Ahmed Jawad for the victims of Israeli air raids.
Following a meeting between the two diplomats, Qureshi "categorically" condemned the Israeli army "continuous and indiscriminate attacks" that have resulted in nearly 200 victims in the besieged Gaza Strip and the occupied West Bank.
---
Blackouts in parts of Gaza City after raids damage power line
The Gaza Electricity Distribution Company says there were power cuts in "large areas" of Gaza City after Israeli attacks damaged a line feeding electricity from the only power plant to southern areas of the city.
In a Facebook post, the company said its crews were trying to repair the line, adding that it had been repaired more than once in the week since the bombardment began.
---
One Palestinian reported injured
Al Jazeera's Safwat al-Kahlout, reporting from Gaza City, says one Palestinian was treated for light injuries at al-Shifa hospital.
There were no other reports of injuries, and the Associated Press news agency said there was little information on the extent of damage inflicted on the Gaza Strip early on Monday.
---
Israel attacks 'empty bases, training camps' linked to Palestinian groups
Al Jazeera's Safwat al-Kahlout, reporting from Gaza, says the Israeli military targeted "empty fields, empty and evacuated military bases and empty training camps linked to Palestinian fighting groups" in and around Gaza City.
Hamas, meanwhile, fired short-range rockets at southern Israel, instead of the longer-range weapons launched a day earlier. The Israeli Iron Dome air defence system intercepted those rockets, said al-Kahlout.
"It appears that the scale of the fire of the Palestinian fighting group is linked to the strength of the Israeli fire," he added.
---
Israel's latest air attacks 'heavier, longer'
Israel's latest air bombardment of the Gaza Strip was "heavier, on a wider area and lasting longer" than the raids 24 hours earlier that killed at least 42 Palestinians.
Fares Akram, AP's correspondent in Gaza City, said explosions "rocked the city" from north to south for 10 minutes.
Al Jazeera's Safwat al-Kahlout, reporting from Gaza, said there has barely been "one hour of peace" and that Israeli drones were "hovering overhead, controlling the skies".
---
Biden says US working for 'sustained calm'
US President Joe Biden says his administration is in touch with Palestinians and Israelis to work towards a sustained calm.
"We also believe Palestinians and Israelis equally deserve to live in safety and security and enjoy equal measure of freedom, prosperity and democracy," he said in a pre-taped video aired at an event on Sunday marking the Muslim Eid holiday.
"My administration is going to continue to engage Palestinians and Israelis and other regional partners to work toward sustained calm."
---
U.N. Secretary General calls for immediate ceasefire
United Nations Secretary-General Antonio Guterres on Sunday called the violent conflict between Israel and Gaza "utterly appalling" and urged for an immediate ceasefire, as the worst outbreak of fighting in years stretches into seven days and takes a heavy toll on civilians.
"This latest round of violence only perpetuates the cycles of death, destruction and despair, and pushes farther to the horizon any hopes of coexistence and peace," Guterres said during a U.N. Security Council meeting.
"Fighting must stop. It must stop immediately. Rockets and mortars on one side and aerial and artillery bombardments on the other must stop," he said. "I appeal to all parties to heed this call."
Alternatives needed to UN Security council – BDS founder
Speaking to Al Jazeera, Boycott Divestment and Sanctions Movement founder Omar Barghouti said the world has to go beyond the UN Security Council and find alternatives in the UN General Assembly, the ICC but also within each state.
"This ongoing Nakba has got to stop, but it will not stop now at the Security Council because it's hijacked," Barghouti added.
"We need to move at the other levels across the world including the UN General Assembly, including the ICC, the International Criminal Court, but also every state can do a lot, such as imposing a military embargo in Israel, cutting relations, cutting trade."
---
Gaza death toll jumps to 192: Health ministry
The Gaza health ministry has said at least 192 people have now been killed in the coastal enclave, including 58 children.
US Senator Sanders calls devastation in Gaza 'unconscionable'
American politician Bernie Sanders in a tweet the destruction in Gaza was 'unconscionable', adding that the US must take a 'hard look' at military aid the country provides to Israel.
'It is illegal for US aid to support human rights violations."
The devastation in Gaza is unconscionable. We must urge an immediate ceasefire. The killing of Palestinians and Israelis must end. We must also take a hard look at nearly $4 billion a year in military aid to Israel. It is illegal for U.S. aid to support human rights violations.

— Bernie Sanders (@BernieSanders) May 16, 2021
---
Jordan's king says diplomacy under way to halt Israel's bombardment of Gaza
Jordan's King Abdullah said his kingdom was involved in intensive diplomacy to halt what he described as Israeli military escalation that has led to the worst flare-up of violence in years.
The monarch, whose ruling family has custodianship of Muslim and Christian sites in Jerusalem, did not elaborate but has in recent days warned that Israel's military campaign was risking major instability in the region.
---
Erdoğan, Iran's Rouhani discuss Israeli attacks against Palestine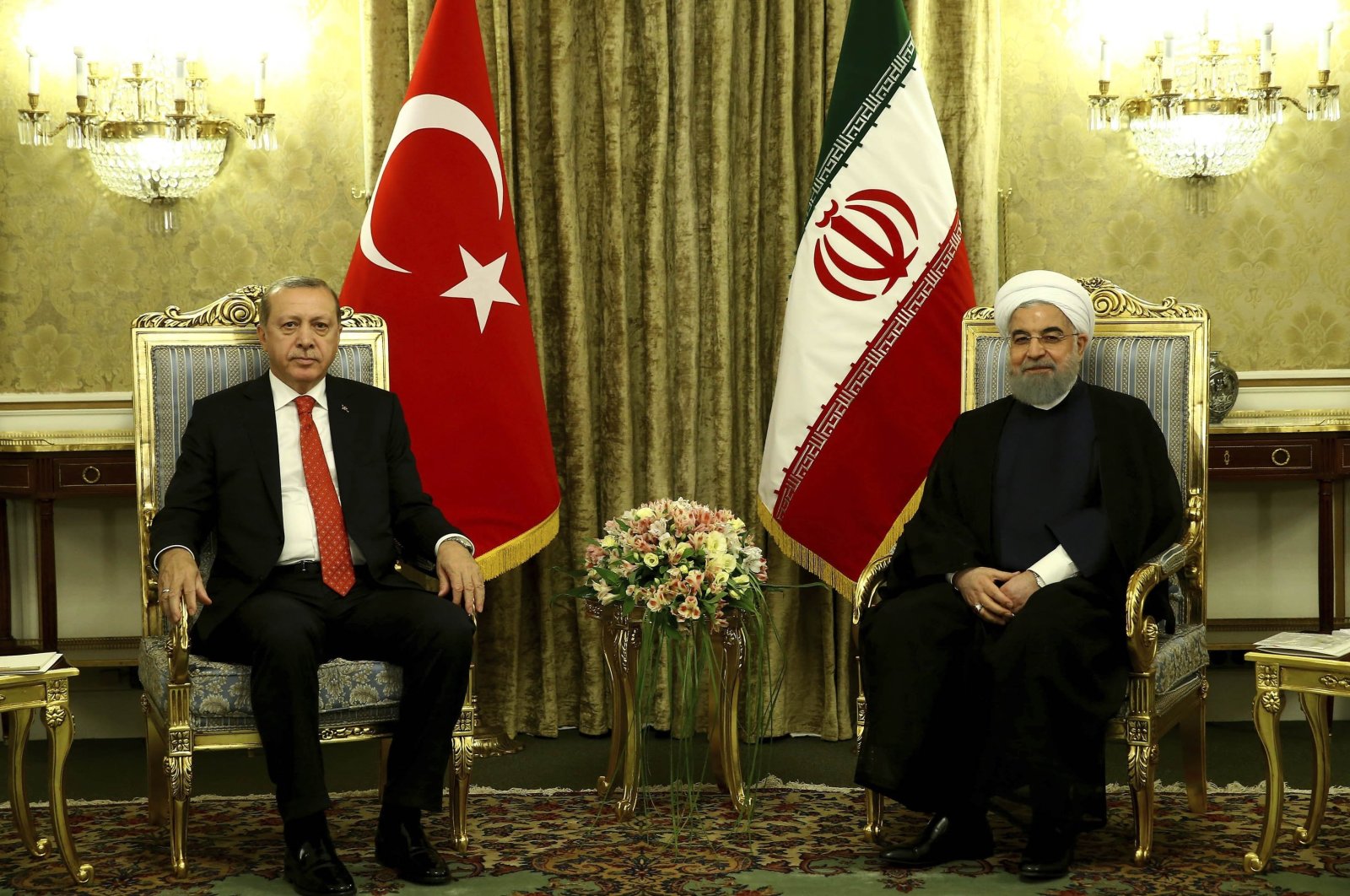 President Recep Tayyip Erdoğan and his Iranian counterpart Hassan Rouhani on Sunday discussed Israeli attacks against Palestine in a phone call.
Erdoğan told Rouhani that Turkey has demonstrated a strong reaction against Israeli attacks and oppression, reiterating Ankara's determination to continue this stance.
The international community must give a strong and deterrent punishment to Israel, Erdoğan said adding that the Islamic community must be in a unity of discourse and action for this aim.
As Turkey's Communications Directorate stated, the two leaders also evaluated bilateral relations between Turkey and Iran.
---
Several Injured In East Jerusalem Car-Ramming, Attacker Shot
A car-ramming attack wounded several people including four police officers in the flashpoint Sheikh Jarrah neighbourhood of Israeli-annexed east Jerusalem on Sunday, police said, adding that the attacker was shot.
After the "vehicle-ramming attack" in the district, the scene of weeks of clashes between Palestinians and Israeli security forces, the assailant was "shot by officers", police spokesman Micky Rosenfeld said without giving details on the attacker's condition.
---
"This outrageous targeting of media must stop," International Federation of Journalists to Israel
"The International Federation of Journalists has called on the UN Security Council, which meets today, to take urgent action to stop the deliberate and systematic targeting of journalists in Gaza," the organization said.
The purpose of attacking journalists was to "silence those reporting from on the ground in Gaza," the IFJ believes.
IFJ General Secretary Anthony Bellanger accused Israel of breaching its obligations under UN Security Council Resolution 1738, which requires that States provide protection to journalists in conflict environments. Meanwhile, more than 30 media workers have been attacked or detained in the Gaza Strip and internet services were blocked, according to the statement.
"This outrageous targeting of media must stop," Bellanger was quoted as saying.
---
Jordan Confirms 2 Nationals Detained On Border With Israel
The Jordanian Ministry of Foreign Affairs and Expatriates confirmed on Sunday the detention of two citizens on the border with Israel, saying that the embassy in Tel Aviv was working for their release.
Earlier in the day, the Israeli police detained two people armed with knives who allegedly crossed the border from Jordan at night. They were sent for interrogation.
"The foreign ministry confirms that it is monitoring the situation with the detention of two Jordanian citizens in Israel. The Jordanian embassy in Tel Aviv is in constant contact with the Israeli authorities and is working on the release of the two citizens," the ministry said in a statement.
The detention comes as tensions keep high between Israel and Palestine's Gaza Strip, with pro-Palestinian rallies taking place in neighboring countries, as well as across the world.