Tue 01 October 2019:
Due to the lockdown in Kashmir, many women have been unable to buy sanitary pads and relying on either unhygienic options during their menstrual cycle or borrowing pads from friends in the neighbourhood, a report in a national daily pointed out.
A report in the National Herald quoted several women as saying that purchasing sanitary pads has become an ordeal as the shops are shut most of the times. It cited the case of one woman, a resident of Anantnag town, who said that she was forced to use old cloth as she or her mother could not venture out of their house to buy the pads.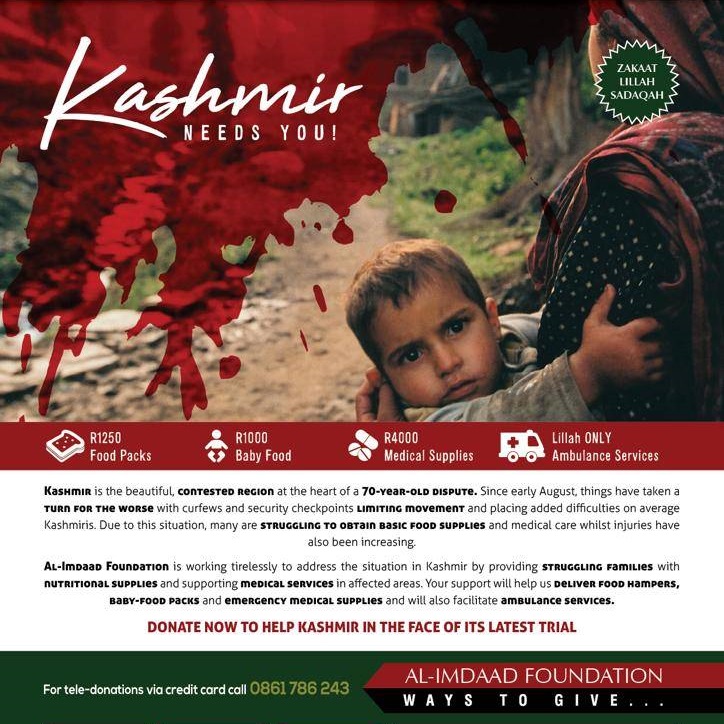 In neighbouring Kulgam district, a post-graduate student at a local university, attempted to buy the pads repeatedly but failed. Although many a times she found a pharmacy half open at the corner of her street functioning, she failed to buy the product. "I almost reached the shop thrice but I could not buy the pads as a CRPF man was always standing there," she said.
Her middle-aged mother who encouraged her to speak to this reporter said that they could not buy the products from any other shop in the main market due to the continuous strike and restrictions.
"Only a few shops half-open their shutters in the main market in the evening but it is always a dicey affair to go there. You don't know when forces will appear and clashes will break out," she added.

The Valley has been virtually shut since August 5 when the Government of India did away with the special status of Jammu and Kashmir and split the state into two Union Territories – Jammu and Kashmir, and Ladakh.
In Kashmir's conservative society, it is considered a taboo to talk about the menstruation or purchase sanitary pads openly. Any discussion about the issue takes place in closed and women-only groups.
Women, particularly in rural areas of the Valley, buy sanitary pads from a select few stores. Many women said that they could not find their specific shops open, causing tremendous inconvenience to them.
"I always go to town and buy them from a particular shop. During the past one month, I have not been able to visit the place even once," said another woman who lives in a village barely six kms from Pulwama town. With their faces covered with chequered scarves, a group of young college-going girls echoed the same view.
Masarat Jan, a Valley-based doctor, said that women use old clothes and cotton to manage the situation during such crisis which ultimately takes a toll on their health. She said that unhygienic menstrual management could make women vulnerable to many diseases.

"Anything from skin irritation to cervical cancer is possible," she said.
A government official, who declined to be identified in this report, expectedly said he did not feel that there was any paucity of sanitary pads in Kashmir. He, however, conceded that some women may not have been able to access the stores.
Sehrish Asghar, an IAS officer in Jammu and Kashmir, first spurred a debate about menstrual health in July this year. She made arrangements to install sanitary pad dispensers in all girls' higher secondary schools and colleges in Budgam district where she was posted as Deputy Commissioner.
Think your friends would be interested? Share this story!