Sat 25 January 2020:
This year's Corruption Perceptions Index (CPI) reveals that a majority of countries are showing little to no improvement in tackling corruption.
Our analysis also shows corruption is more pervasive in countries where big money can flow freely into electoral campaigns and where governments listen only to the voices of wealthy or well-connected individuals.
The index ranks 180 countries and territories by their perceived levels of public sector corruption, according to experts and business people. It uses a scale of zero to 100, where zero is highly corrupt and 100 is very clean. More than two-thirds of countries score below 50 on this year's CPI, with an average score of just 43. Similar to previous years, the data shows that despite some progress, a majority of countries are still failing to tackle public sector corruption effectively. 
Governments must urgently address the corrupting role of big money in political party financing and the undue influence it exerts on our political systems.
The top countries are New Zealand and Denmark, with scores of 87 each, followed by Finland (86), Singapore (85), Sweden (85) and Switzerland (85).
The bottom countries are Somalia, South Sudan and Syria with scores of 9, 12 and 13, respectively. These countries are closely followed by Yemen (15), Venezuela (16), Sudan (16), Equatorial Guinea (16) and Afghanistan (16).
In the last eight years, only 22 countries significantly improved their CPI scores, including Greece, Guyana and Estonia. In the same period, 21 countries significantly decreased their scores, including Canada, Australia and Nicaragua. In the remaining 137 countries, the levels of corruption show little to no change.
This year, Western Europe and the EU is the highest scoring region with an average of 66/100, while Sub-Saharan Africa is the lowest scoring region with 32 points. Both regions have kept an unchanged average since last year.
"To have any chance of ending corruption and improving peoples' lives, we must tackle the relationship between politics and big money. All citizens must be represented in decision-making."
Following four decades of military dictatorship, Angola (26) jumped seven points in this year's CPI. Although the country has recovered US$5 billion in stolen assets, more needs to be done to strengthen integrity and promote transparency in accounting for oil revenue. Read more.
With a score of 53, Saudi Arabia improved by four points since last year. However, its score does not reflect its dismal human rights record and severe restrictions on journalists, political activists and other citizens. As Saudi Arabia takes on the presidency of the G20 this year, the country must end its crackdown on civil liberties. Read more.
While the CPI shows top-scoring countries like Denmark and Switzerland to be among the cleanest in the world, corruption still exists, particularly in cases of money laundering and other private sector corruption. Read more.
AFRICA
Sub-Saharan Africa is perceived among the most corrupt regions with an average score of 32, according to the 2019 Corruption Perceptions Index (CPI) released by Transparency International.
Overall, more than two-thirds of the world's countries – along with many of the most advanced economies – are stagnating or showing signs of backsliding in their anti-corruption efforts.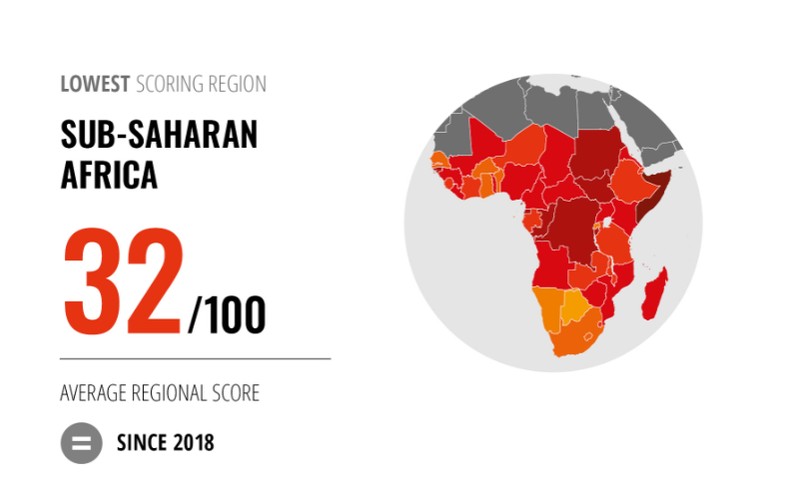 This year, our research highlights the relationship between politics, money and corruption. Keeping big money out of politics is essential to ensuring political decision-making serves the public interest and curbing opportunities for corrupt deals. Countries that perform well on the CPI have strong enforcement of campaign finance regulations.
WHO FUNDS POLITICAL CANDIDATES?
A common avenue for money to enter politics, besides direct bribes paid to senior officials, is through the financing of political parties. When elected, politicians can give preferential treatment to companies or groups who bankrolled their campaigns. At the same time, when political contestants do not have to declare the sources of funding and campaign expenditure, the costs of election campaigns increase and the risk of illegal expenditure increase, such as vote buying.*
The African Union Convention on Preventing and Combatting Corruption, ratified by 40 countries, specifically requires state parties to incorporate the principle of transparency into political party funding, and to proscribe the use of funds acquired through corruption.
Delia Ferreira Rubio, Chair of Transparency International
In Africa, Seychelles improves on its transparency record with a score of 66, well above 50 recorded in 2018, the highest mark in the region.
Other high scoring countries include Botswana (61), Cabo Verde (58), Rwanda (53), and Mauritius (52).
In the latest report, Nigeria ranks 146 out of the 180 countries with a score of 26 and the 16-most corrupt nation in Africa. Last year, Africa's populous nation ranked 144 out of 180 nations with a CPI score of 27.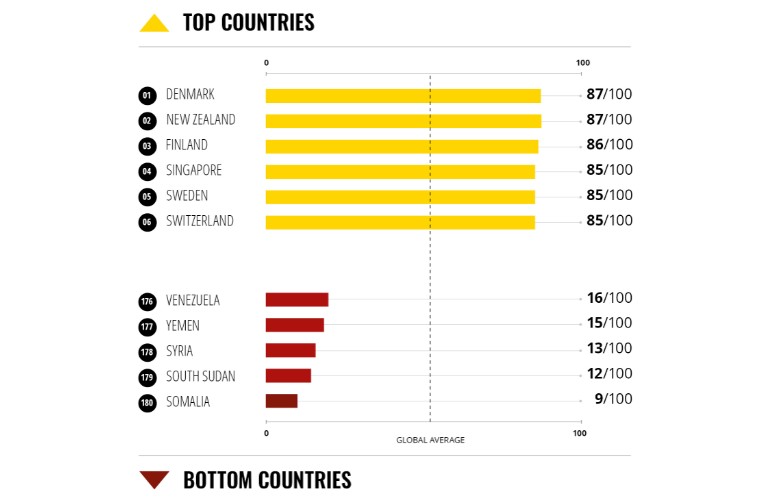 CPI 2019 Top and Bottom countries in the world
Business Insider SSA looks at 15 African countries with low scores and perceived most corrupt nations in the region:
15. Cameroon
2019 Score: 25

2019 Ranking: 153
14. Central African Republic
2019 Score: 25

2019 Ranking: 153
13. Comoros
2019 Score: 25

2019 Ranking: 153
12. Madagascar
2019 Score: 24

2019 Ranking: 158
11. Zimbabwe
2019 Score: 24

2019 Ranking: 158
 10. Eritrea
2019 Score: 23

2019 Ranking: 160
9. Chad
2019 Score: 20

2019 Ranking: 162
8. Burundi
2019 Score: 19

2019 Ranking: 165
7. Congo
2019 Score: 19

2019 Ranking: 165
6. Democratic Republic of the Congo
2019 Score: 18

2019 Ranking: 168
5. Guinea Bissau
2019 Score: 18

2019 Ranking 168
4. Equatorial Guinea
2019 Score: 16

2019 Ranking: 173
3. Sudan
2019 Score: 16

2019 Ranking: 173
2. South Sudan
2019 Score: 12

2019 Ranking: 179
1. Somalia
2019 Score: 9

2019 Ranking: 180
To end corruption and restore trust in politics, it is imperative to prevent opportunities for political corruption and to foster the integrity of political systems. Transparency International recommends: 
Manage conflicts of interest.  
Control political financing.  
Strengthen electoral integrity.  
Regulate lobbying activities.  
Empower citizens.  
Tackle preferential treatment.  
Reinforce checks and balances. 
Check out the CPI 2019 report for full recommendations. 
Image: shutterstock.com / Lucy Brown – loca4motion
For any press enquiries please contact press@transparency.org
Think your friends would be interested? Share this story!