Sun 01 May 2022: 
The Guardian has published an investigation with Leaked footage reveal Syrian military personnel slaughtering 288 civilians in 2013, including seven women and 12 children, in frightening and unprecedented detail.
Military officers expose their faces to the camera and appear at ease and in complete control before they execute their civilian victims in cold blood in the recordings, which were leaked to the writers in 2019 and consist of 27 takes of the slaughter in various stages.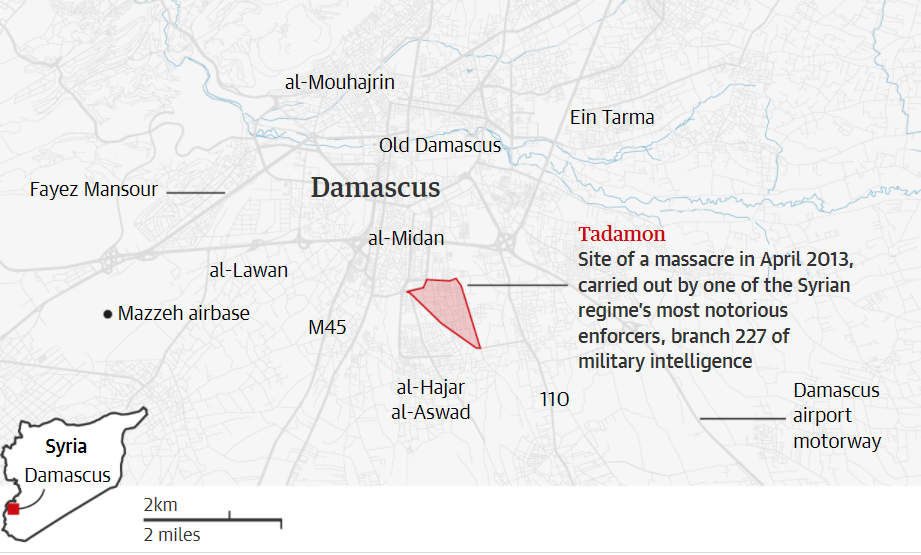 The massacre took place on April 16, 2013, in the Damascus area of Tadamon, according to a two-year investigation based on open-source intelligence and numerous interviews, including with several of the executioners who are still serving as officers in Syria's elite military intelligence unit.
The Tadamon neighborhood is located in the southern entrance of old Damascus. The Arabic "tadamon" translates to "solidarity" — originally with those who were displaced by Israel during its invasion of the Golan Heights in 1967.
It was there that groups of civilians were rounded up, sent towards an execution pit, and shot dead.
The British newspaper reported that the mass grave contained at least 41 bodies following the massacre.
The bodies were then doused with fuel and set alight.
In the video footage, soldiers could be heard laughing.
The massacre took place just a few miles from Syrian regime leader Bashar al Assad's seat of power.
This massacre was a snapshot in a much wider policy of destruction and extermination that the regime enacted in the southern suburbs. The extent of this genocidal microcosm in this area went far beyond this one videotaped massacre and includes at least four forms of violence: systematic mass killings, imprisonment, sexual violence and economic exploitation.
This is the full video of #Tadamon_massacre #مجزرة_التضامن#مجزرة_التضامن #مجزرة_حي_التضامن #Russia pic.twitter.com/vtBNQR5WBf

— General Surgeon (@alfuratyalatiqe) April 30, 2022
Chulov said the footage is "one of the most indictable videos from the whole Syrian conflict" and "gives us a glimpse into a previously untold part of the 10-year war."
The massacre was carried out by Branch 227 of the regime's military intelligence, the Guardian reported.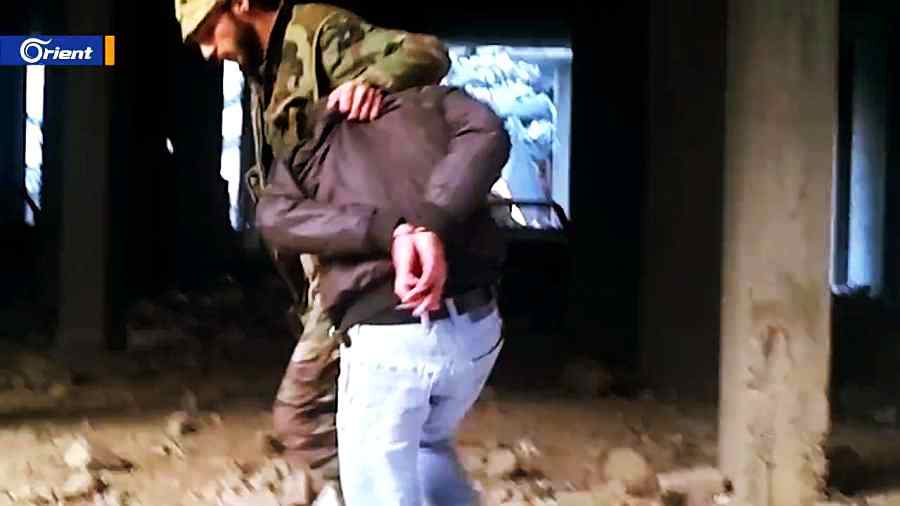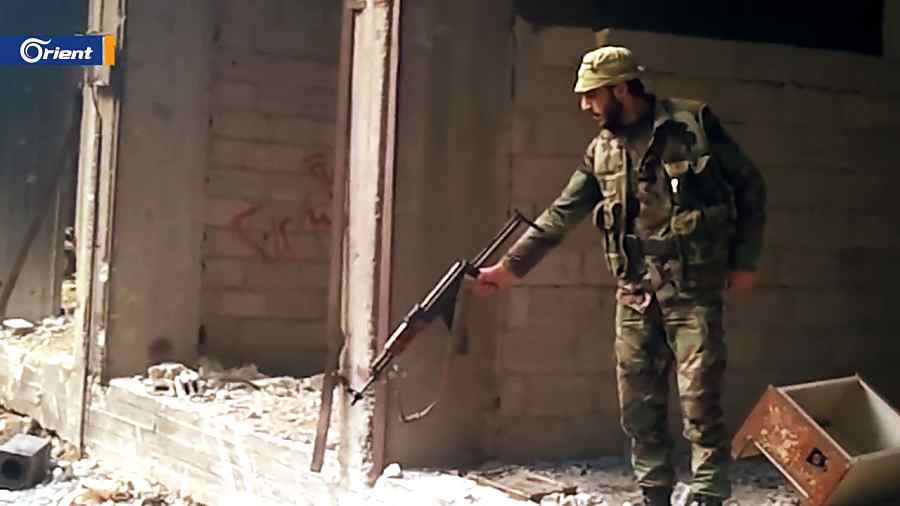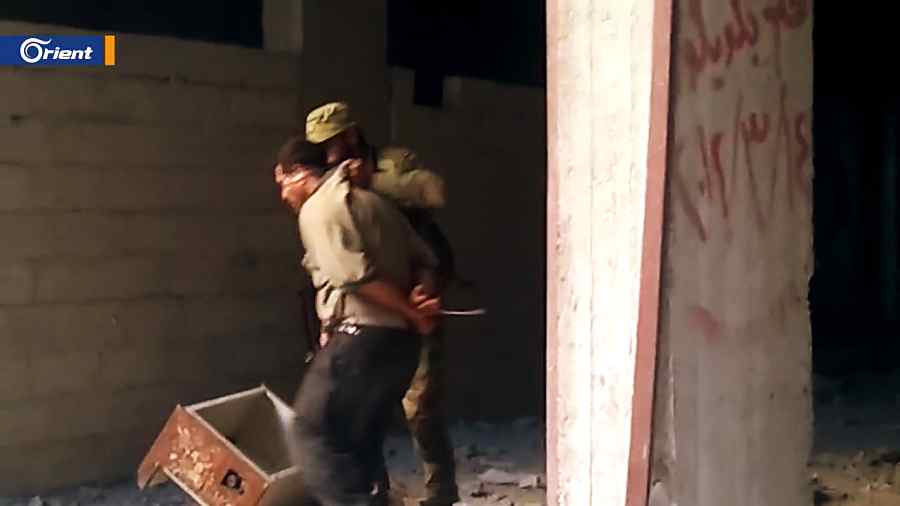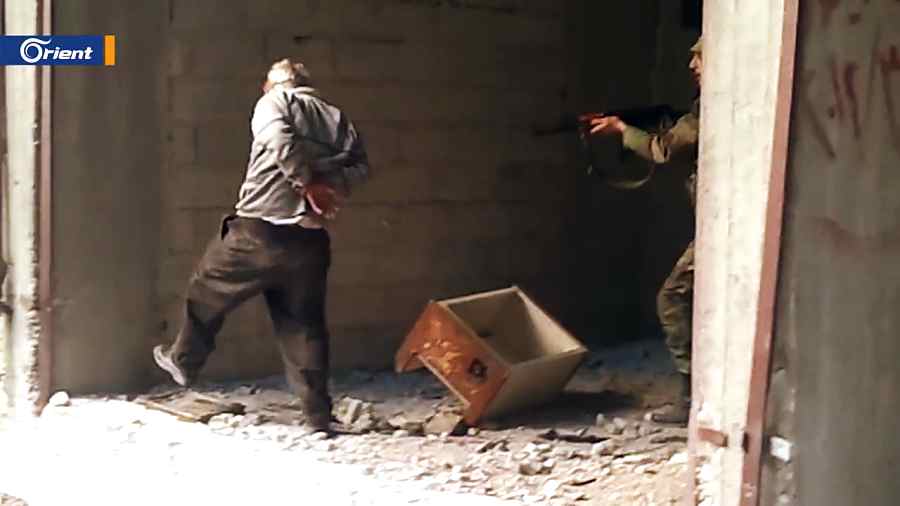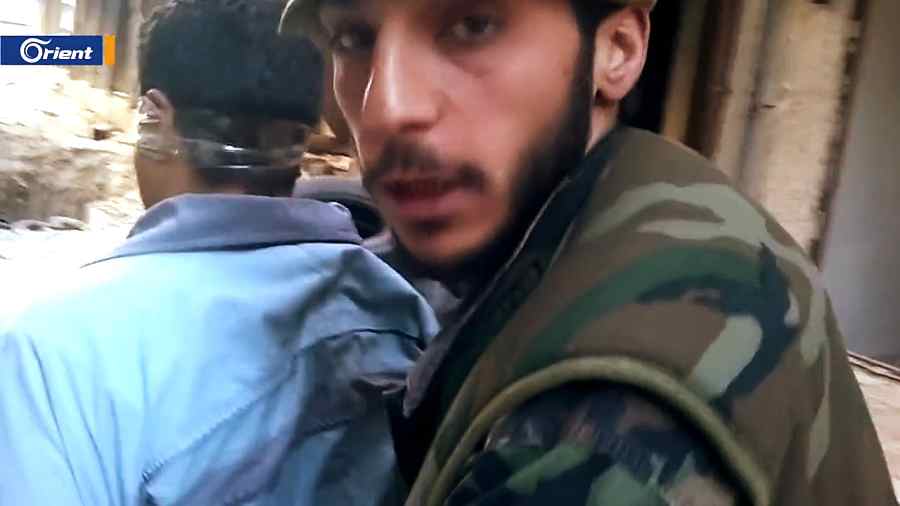 Video recorded by loyalist militia
Two main executioners shown in the footage, they are Amjad Youssef, 36, who at the time of the massacre held the military rank of warrant officer, and the now-slain Najib al-Halabi, born in 1984, who held no official rank as he was serving in the armed militia known as the National Defense Forces (NDF). In three separate videos that each last about seven minutes, these two men show themselves in broad daylight while executing 41 civilians. Then they dump the bodies in a pre-dug pit prepared with car tires for incineration.
Military Intelligence Officer Amjad Youssef (seated) posing with a colleague at a location later identified as an office inside Military Intelligence Branch 227. Photo was taken on Nov. 30, 2021 / Source
The victims' eyes are bound over with transparent duct tape or cellophane plastic wrap. Their hands are tied with white plastic zip ties, normally used for tying cables together. (These same zip ties are used by the police around the world as plastic handcuffs.)
Most of the victims are wearing modern, casual clothing: jeans and shirts, track suits or dishdashas (white robes worn by men). A few are wearing indoor pajamas, suggesting they were lifted from home or from security checkpoints.
A new video leaked in Syria shows the burning of the bodies of civilians and their burial in a large pit by Bashar al-Assad's militia.
#Al-Tadamon neighborhood #Al-Tadamon massacre #Bashar_Assad
#Syria #Assad pic.twitter.com/B9l8tKFNjF

— #الاعلامي _سامي _الحلبي (@iHHDYROQMHnphnS) April 30, 2022
Some victims look outright poor, others look well groomed; none look like they have been severely tortured or like the emaciated detainees the regime keeps in its gulag-like labor camps. They are meek and do not resist or protest, and they follow the perpetrators' orders: They get out, they walk, they stand up. All are shot,
Most victims die in silence. A few beg, weep and yelp; others try to bargain, adjure or beseech. None of the victims utters the "Shahadah," the Muslim testimony of faith, before death. Some are kicked or pushed into the pit, then shot; some are shot and only then kicked in; others are shot while falling. One of the victims pleads: "Please, for the sake of Imam Ali," but Youssef is inexorable and hurls him in: "Fuck you, son of a bitch." 
The footage was recorded by a new recruit to a loyalist militia, who leaked it first to an opposition activist in France and then to two researchers: Annsar Shahhoud and Prof Ugur Umit Ungor of the University of Amsterdam's Holocaust and Genocide Center.
Annsar, a critic of the Assad regime, created an alias on Facebook in order to reach out to regime officials.
In March 2021, she connected with a man called Amgd Youssuf, who is alleged to be one of the gunmen in the video.
The two researchers passed on their evidence, comprised of videos, notes, and thousands of hours of interviews, to prosecutors in the Netherlands, Germany, and France.
The source is safe outside Syria.
US Condemns Tadamon Massacre In Syria
The US State Department condemned on Saturday the atrocities depicted in a recently released video, showing blindfolded, unarmed civilians being shot point-blank by an Assad regime official before falling into a mass grave.
The 2013 massacre in the area of Tadamon, Syria, reportedly killed hundreds of Syrian civilians.
Department spokesman Ned Price said in a statement that the massacre suggests additional evidence of war crimes committed by the Assad regime, and is yet another harrowing example of the horrors that the Syrian people have endured for more than a decade.
The State Department then commended the brave individuals who work to bring Assad and his regime to justice, often at the risk of their own lives. 
"This includes the vital work of Syrian civil society organizations to document violations of the law of armed conflict as well as human rights abuses and violations and their efforts to advance transitional justice," Price stressed.
He said that the US government remains firmly committed to securing accountability for the atrocities the Assad regime continues to inflict upon Syrians.  
"Accountability and justice for the crimes, violations, and abuses committed against Syrians are essential to a stable, just, and enduring peace in Syria and the region," the US spokesman noted.
-News Agencies
___________________________________________________________________________________________________________________________________________
FOLLOW INDEPENDENT PRESS:
TWITTER (CLICK HERE) 
https://twitter.com/IpIndependent 
FACEBOOK (CLICK HERE)
https://web.facebook.com/ipindependent
Think your friends would be interested? Share this story!