Prime Minister Jacinda Ardern has confirmed that as at 7pm 40 people have lost their lives in the shootings at the Masjid Al Noor on Deans Ave and the Linwood Masjid on Linwood Ave on Friday.
"It is clear that this can now only be described as a terrorist attack."
The patients ranged from young children to adults and their injuries ranged from critical to minor. Some would need multiple surgeries and some had been taken to other health facilities around the country.
Police Commissioner Mike Bush said local police had committed "some absolutely acts of bravery" to arrest the three men and one woman following the shootings. Officers would have immediate access to firearms, he said.
"We are not aware of other people, but we cannot assume there are not others at large."
Two improvised explosive devices were found attached to vehicles and were diffused by Defence Force staff, Bush said.
Police were setting up a facility for people to get more information about loved ones potentially affected.
He asked Christchurch residents to stay inside and said all mosques around the country should shut their doors until further notice. 
"We urge New Zealanders to stay vigilant and report any suspicious behaviour immediately to 111."
Police also asked people not to share the distressing video footage of the Deans Ave shooting.
Ardern said it was one on New Zealand's "darkest days".
"This was an act of extraordinary and unprecedented violence. It has no place in New Zealand.
"Many of the people affected by this act of extreme violence will be from our refugee and migrant communities. New Zealand is their home. They are us
"The person or people who carried out this act of unprecedented violence are not. There is no place in our home for them."
SEARCH IN DUNEDIN
Armed police have cordoned off a Dunedin street as they investigate a potential connection with the Christchurch mosque shootings.
Somerville St, in the quiet suburb of Anderson's Bay, was closed about 5pm on Friday as police investigated a vehicle linked to a property there.
Residents were told to stay indoors as police entered the house.
The street remains closed at 6.30pm.
Meanwhile armed offenders squad members entered Dunedin's Al Huda Mosque, in the student quarter, just before 5pm.
The mosque remains under armed guard as it was mentioned in a document written by one of the alleged gunmen.
The man said he planned to attack the mosque, but later altered his plan.
DOZENS OF PEOPLE INJURED
Stuff understands the emergency department at Christchurch Hospital was cleared out and armed police checked all vehicles outside. Hospital staff expected about 40 to 50 injured people.
St John said it had taken multiple patients to Christchurch Hospital and local medical facilities. Patient injuries ranged from minor through to those with critical gun shot wounds. 
Several helicopter and road ambulances were on standby to provide support, including transporting patients to other intensive care units around the country.
Resources had been deployed from throughout the country to provide cover for the next few days and remained available to provide support and care for the people of Christchurch.
eans Ave has been closed, while Linwood Ave has been closed between Aldwins Rd and Worcester St, and Brougham St (State Highway 76) has been closed between Antigua and Durham streets. 
About 20 armed police cleared buildings in Linwood, including Eastgate Mall, which remained closed for the rest of the day. 
Police also cleared Cathedral Square, where thousands of children were rallying for action on climate change. 
Fifty to 60 children were kept inside the Christchurch City Council building on Hereford St while the city was locked down. They had been visiting the council as part of Friday's action against climate change. 
Armed police also cordoned off Papanui High School and it appeared a man had been spoken to by police outside. It was later confirmed the man was not involved in the mosque incidents.
A statement on the school's website said students were being moved to the hall until the cordon lifted after 5pm.
CHILDREN IN MOSQUE
A man, who would not give his name, said he was praying in the Deans Ave mosque when he heard the shooting start.
He managed to escape, but saw his wife lying dead on the footpath outside. 
"My wife is dead," he said, wailing. His head was supported by other Muslim men who prayed for him.
Another man said he saw children being shot.
Dozens of people were shot by a man wearing military uniform, who emptied at least two magazines.
"There were bodies all over me."
Ranzan Ala said everyone started running to one of the doors when the shooting began. Once he got outside and ran away, he saw he had blood on him from other people.
"Oh my God, I don't want to see this kind of thing, it's a nightmare. It's going to be there for weeks and months."
His friend from Fiji was also in the mosque with him and was missing.
About 20 to 30 children had been among the roughly 500 people inside, he said.
Argyle on the Park owner Lena Borodin said she saw a man in a silver car pulled up outside her motel and shoot an elderly Muslim man who was walking toward the mosque.
The elderly man, aged in his 70s, was shot in his side. He lay on the ground outside a unit at the motel until a police came and helped him. 
The gunman, who she described as young and skinny, then drove away.
'INDISCRIMINATE SHOOTING' DURING PRAYERS​
A resident on nearby Freyberg St said she heard "hundreds" of shots and it was "terrifying".
Ahmad Al-Mahmoud, 37, described the shooter as white-skinned, blond, quite short and wearing a helmet and a bulletproof vest. He and others broke a window in a door to escape from the mosque. Prayers started at 1.30pm and the gunman came in about 10 minutes later, when everyone was on their knees praying, he said.
The gunman let off dozens, if not hundreds of rounds, he said.​
South Island manager for Naki Labour Hire, Carl Pomare, was driving past the mosque when people suddenly started running from the building.
He heard shots going off rapidly like fireworks and saw people hitting the ground.
Pomare, along with another two people from Heb Construction Limited, formed a cordon with their cars, stopping people from approaching from the south.
One of the people who had been shot was a 5-year-old girl, he said. Her father was nursing her and asking people for help.
"We looked at it thinking we've got to get this little 5-year-old girl to the hospital now otherwise she's going to die.
"It was a pretty scary situation because there were still other shots being fired at the time inside the mosque."
SECOND SHOOTING AT LINWOOD MOSQUE
Farhaan Farheez was in the Linwood Mosque praying with about 100 others when the shooting started.
"I didn't know what a gun sounded like. It is customary when we are praying not to pay attention to the outside world … Gunshots kept happening and people kept praying."
The 27-year-old, who moved to New Zealand from Fiji in 2015, said he then heard an aggressive voice and "heaps and heaps" of gunshots. 
"They came really close. It was at the door. It was really painful in my ears. I could see a gun at the entranceway but not the face. Everyone was really scared and trying to save themselves."​
People were taking cover at the back of the mosque, hiding under tables and on the ground, he said.
He saw people get shot, including a man sitting beside the window who was shot in the head, and another man who was shot in the hand.
Two people who arrived late were the first ones shot and their bodies lay at the entrance, he said.
"I saw two females and four or five males dead and the rest were severe casualties … The whole mosque was filled with blood and dead bodies. It was like a battlefield."
The gunman then fled and left his gun lying at the entrance of the mosque, he said.
Farheez said he called police for help. 
"I am thinking, I have worked so hard to be in New Zealand but what for – to be shot at?"
"I don't feel safe to be here to be honest. New Zealand has a really good name but now because of this the whole world will view New Zealand extremely differently. This is an act of terror."
Doctors from the Piki Te Ora health centre in Linwood Ave tried to help victims at the mosque but could not save anyone.
Syed Ahmed said he saw a man wearing a black motorcycle helmet and camouflage clothing carrying what he thought was a black assault rifle with white writing.
The man started "indiscriminate shooting" from outside the mosque, first hitting several elderly people sitting on chairs.
"They were basically all shot."
He thought at least eight people had been shot, including at least three women and two of his friends. One had been shot in the head, he said.
The man came through the front door "shouting something", but it "could not be heard over the screaming".
Ahmed said he kept "low on the ground" and crawled to the storeroom before getting away.
MAN STARTED 'JUST KILLING PEOPLE'
The former president of the Muslim Association of Canterbury, Mohammed Jama, said a man with a gun went into the Deans Ave mosque about 1.40pm and "started shooting all the people".
One man who was there at the time said a man came in with an automatic rifle and was "just killing people". He ran.
Another witness said the man was wearing a helmet and had a big gun, with a lot of bullets.
"He came through and started shooting like everyone in the mosque, like everywhere, and they have to smash the door and the glass from the window and from the small door to try and get out."
Ahmed Tani, of the Canterbury Refugee Resettlement and Resource Centre, said he was walking to the mosque and was about 400 metres away when he heard many gunshots.
"I was really frightened," he said.
"I come from Somalia and the last time I heard the sound of gunfire was eight years ago.
"Then people were running towards me and shouting 'go, go, go'."
The Bangladesh cricket team were in the mosque where shots were fired.
Cricinfo's Bangladesh correspondent Mohammad Isam posted a video to Twitter of the team rushing through Hagley Park away from the mosque.
Bangladesh were due to play New Zealand at Hagley Oval on Saturday, but the game has since been called off.
'EVERYONE IS SHOCKED' – MAYOR
Christchurch mayor Lianne Dalziel said she was "shocked beyond words" by the shootings.
"I would never have expected anything like this to happen in Christchurch, I'd never expect this to happen in New Zealand.
"I am getting messages from around the country, and from around the world. I know that everyone is shocked".
Dalziel said she was not in a position to comment on the shootings themselves.
All civic buildings – including the council headquarters, public library and art gallery – were in lockdown. 
She asked people to heed police advice to keep out of the central city, and to stay safe inside a building if they were already in the CBD.
SCHOOLS, PUBLIC BUILDINGS IN LOCKDOWN
All Christchurch schools and tertiary institutes were placed into lockdown until just before 6pm.
Families from various schools were sent text messages about 2.05pm, which said: "This is not an exercise."
The Canterbury District Health Board said the public should not attend Christchurch Hospital unless it is an emergency.
A spokeswoman said the board activated its mass casualty plan and all appointments were cancelled on Friday afternoon. No staff or patients were allowed to enter or leave the building.
The spokeswoman did not know how many patients were expected, saying it was an "evolving situation".
Christchurch Hospital, the nearby outpatients building, and Hillmorton and Princess Margaret hospitals were in lockdown.
The city's justice and emergency services precinct was placed in lockdown about 2.20pm with a warning on the public address system that staff and visitors should stay away from external windows and close blinds if possible.
"There are reports of active shooters in the Christchurch area," the announcement said.
All regional flights out of Christchurch had been cancelled due to the lack of available security.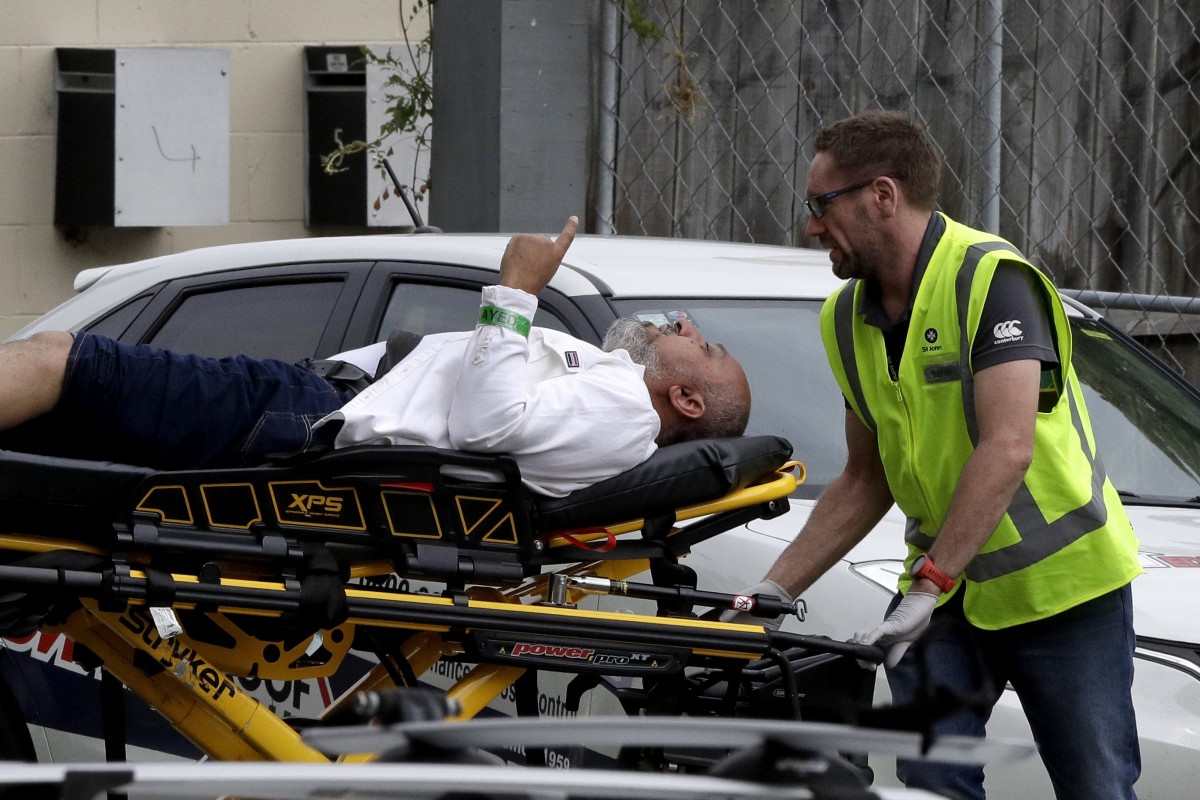 MOSQUES ON ALERT
Muslim Association of Marlborough chairman Zayd Blissett said he found out about the shooting from a text sent by the Federation of Islamic Associations of New Zealand at 2.04pm, saying "50 shot" during Friday prayers in Christchurch.
"I'm just heartbroken. In fact I'm sitting here crying," he said.
"This is New Zealand. This can't happen here."
Ashburton Mosque president Mohamed Diab said armed police closed down the mosque and nearby Jane St about 2.30pm on Friday. It remained unclear how long the mosque and street would remain closed.
Several other mosques around the country, including in Dunedin, had also been closed.
The Imam of the Avondale Islamic Centre in Auckland said his "heart was shaking".
"Prayer starts at 1.30 and goes up until about 2:10pm … that's the normal time now that daylight savings is on, and that was the prime time they chose to come and attack."
Waikato law professor Al Gillespie said it was too early to speculate on the motives of the shooter, but drew a distinction between mass shootings and terrorism.
Terrorism was politically motivated, and international trends showed it was primarily motivated by jihad, left-wing and nationalist sentiment, he said.
"New Zealand terrorist threat risk is 'low' … compared to the rest of the world we're one of the safest countries in existence.
"If it's more than one person involved, then it's not a lone wolf, and then it's a cell, and the whole point of these security services is that these cells are detected."