Fri 26 May 2023:
Two historic shipwrecks from the Ming Dynasty have been discovered in the South China Sea, which is an incredible find. These submerged ships, which have been preserved for centuries, provide a fascinating look into the civilization's naval prowess and cultural diversity.
The wrecks were brimming with valuable artifacts that could provide light on how the Ming Dynasty used maritime trade routes.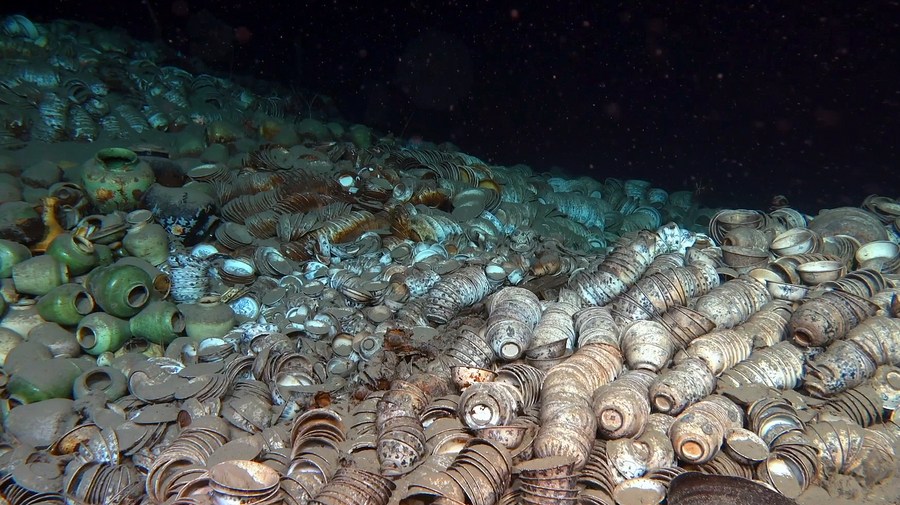 The two shipwrecks were found by officials in October, and cultural and archaeological authorities have now started deep-sea exploration and excavation which will take at least a year, announced officials. 
Two vessels were discovered by marine researchers in the South China Sea's northwest region, around 1,500 metres below sea level. 
The officials stated that the shipwrecks were "relatively well preserved, with a large number of cultural relics".
Experts stated that one wreck belonged to the Hongzhi period of the Ming dynasty, which lasted from 1488 until 1505.  The ship was carrying some pottery and a cargo of stacked persimmon timber logs.
The other wreck has been estimated to date back to the Zhengde period of 1506 to 1521. The ship was filled with more than 100,000 pieces of porcelain crockery. 
In the photographs, piles of plates, stacked bowls and jars with intricate designs were visible underneath the sand and mud.
Wrecks helping study Silk Road's reciprocal flow: experts
China's Ming Dynasty is often regarded as one of the most intriguing, in power from 1368 to 1644. They relied heavily on maritime imports to help supply their country, with trade becoming an important part of their economy. 
The archaeologists stated that both the ancient ships were moving in different directions, and the wrecks were discovered less than 20km (12 miles) apart. They said that it was the first time ships which were returning and arriving have been discovered close to each other, which indicates that they were sailing on an important trade route.
An archaeological investigation on two ancient shipwrecks discovered in the South China Sea was launched on Saturday, opening a new chapter of China's deep-sea archaeology. #GLOBALink pic.twitter.com/i89ZUVmc9i

— China Xinhua News (@XHNews) May 21, 2023
"It helps us study the maritime Silk Road's reciprocal flow," said Tang Wei, the director of the Chinese National Centre for Archaeology. 
The exact location of the shipwrecks remains undisclosed, however, the officials stated that the markers were established on the site.
In recent years, Chinese archaeological exploration has gone further into deeper waters, after a deep-water archaeology laboratory was established by the National Centre for Archaeology and the Institute of Deep-Sea Science and Engineering in 2018. 
The officials stated that the researchers went underwater on Saturday through the submersible Shenhai Yongshi, or Deep Sea Warrior, which has the capacity to carry people to a depth of 5,000 metres.
SOURCE: INDEPENDENT PRESS AND NEWS AGENCIES
______________________________________________________________ 
FOLLOW INDEPENDENT PRESS:
TWITTER (CLICK HERE) 
https://twitter.com/IpIndependent 
FACEBOOK (CLICK HERE)
https://web.facebook.com/ipindependent
Think your friends would be interested? Share this story!