Wed 23 November 2022:  
A hardliner Iranian lawmaker has confirmed that the Revolutionary Guard's Ground Forces have been deployed to Kurdish areas to crack down on protesters.
Mohammad Esmail Kowsari representing Tehran in the parliament who was a commander of the IRGC's Sarallah Headquarters tasked with the capital's security, claimed in an interview Wednesday that "Kurdish separatist groups, especially the Democratic Party of Iranian Kurdistan (PDKI), Komala, and Pejak (the Free Life Party of Kurdistan)" have been stationed in the Iraqi Kurdistan region and sought to take control over some areas in Iran's Kordestan province.
Kowsari claimed that the presence of Kurdish groups is the reason behind the deployment of ground force to the western parts of the country, so that they can overcome them and establish security at the borders.
Tuesday night, an officer from the Border Guard Force of the Iraqi Kurdistan Region confirmed to Iran International that the IRGC ground forces have closed the Haj Omran Border Crossing, stationed a large number of troops equipped with heavy weapons there, and were preparing for ground operations inside Iraqi Kurdistan.
The Islamic Republic calls Iranian Kurdish armed groups in sheltering in Iraq, "terrorist groups" or "anti-revolutionary" but these groups say that the goal of their armed campaign is "defending the rights of the Kurds".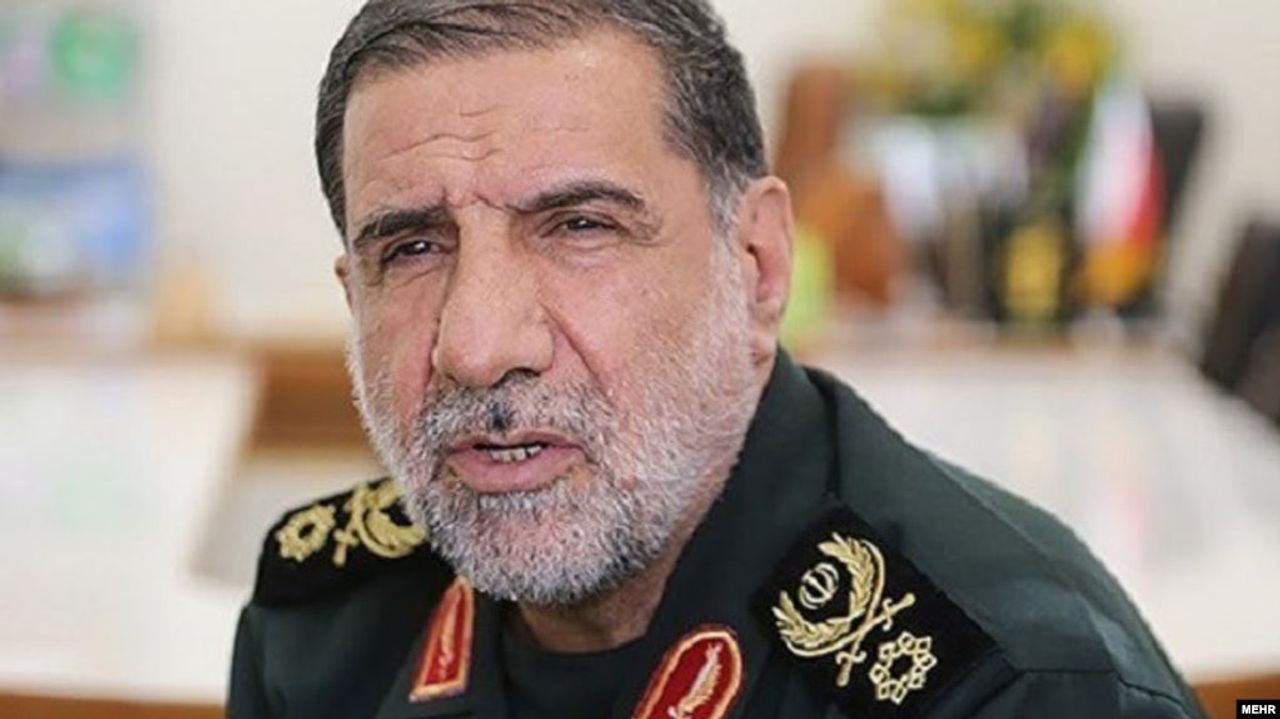 Mohammad Esmail Kowsari, who is one of many IRGC officers in Iran's parliament.
Generally, the Kurdish parties − including Komala and the Kurdistan Democratic Party of Iran (KDPI) − favor Kurdish autonomy within a federal Iran. Pejak (the Free Life Party of Kurdistan), an affiliate of the Kurdistan Workers' Party, or PKK, formed in Turkey but also based in northern Iraq, has generally favored a unified, independent Kurdistan uniting Kurds in Syria, Iraq, Turkey, and Iran.
Since last week, the Islamic Republic has intensified its repression of Kurdish-majority cities and towns in western provinces of the country following reports that parts of some small towns have fallen into the people's hands. The majority of Iran's 10 million Kurds live in the western parts of the country. On Tuesday, the IRGC again hit a base that it claimed belonged to "separatist terrorists" in Iraq using missiles and kamikaze drones.
The regime stepped up attacks against Iranian Kurds sheltering in Iraqi Kurdistan on the pretext that "separatist" Kurdish groups are fanning the flames of conflict in Iranian Kurdish cities by supporting the protesters, leading to a global outcry that is gaining a new momentum following the European Parliament's announcement on Monday that it would not keep direct contact with the Islamic Republic authorities.
In a statement on Tuesday, US State Department Spokesperson Ned Price condemned the Islamic Republic's "repeated and brazen violations of Iraq's territorial integrity," adding that "Iran's violations of Iraqi territorial integrity continue with lethal attacks carried out against the Iraqi Kurdistan Region from November 20 through 22." The US also called on Tehran to refrain from further threats and violence.
Meanwhile, Turkey has also renewed its attacks on Kurdish targets in Iraq and Syria, a week after a bombing in Istanbul which it blamed on Kurdistan Workers' Party, or PKK, as well as Syrian Kurdish groups affiliated with it, an allegation denied by those groups.
Iranian Interior Minister Ahmad Vahidi, himself an IRGC commander, held a conversation with his Turkish counterpart earlier in the month, voicing support for "a stable and strong Turkey." He said that Iran and Turkey have common enemies, calling for more serious cooperation in dealing with "those who make the two countries unsafe."
Also on Tuesday, Iraqi Prime Minister Mohammed Shia' Al Sudani also denounced the Turkish and Iranian attacks, saying "The attacks were launched without taking Iraq's permission, that's why we decry these attacks whether carried out by Turkey or Iran."
A member of the Iraqi Parliament told Iran International Wednesday that the Parliament will once again hold a session on Thursday to discuss the missile and drone attacks of Iran and Turkey. The parliament has held at least two sessions on the issue in the past three days.
-Iran International
___________________________________________________________________________________________________________________________________ 
FOLLOW INDEPENDENT PRESS:
TWITTER (CLICK HERE) 
https://twitter.com/IpIndependent 
FACEBOOK (CLICK HERE)
https://web.facebook.com/ipindependent
Think your friends would be interested? Share this story!