Members of the World Court listen as Russia begins presenting its objections against the jurisdiction of the World Court in a genocide case brought by Ukraine which claims Moscow falsely applied genocide law to justify its February 24, 2022 invasion, in The Hague, Netherlands, September 18, 2023.
Mon 18 September 2023:
Russia has called on the UN's highest court in The Hague to throw out what it described as a "hopelessly flawed" case challenging Moscow's argument that its invasion of Ukraine was carried out to prevent genocide.
The Russian request was made at the start of hearings dealing with the jurisdiction of the international court of justice, also known as the world court, Reuters reports.
"Ukraine is not accusing Russia of committing genocide. Ukraine is also not accusing Russia of failing to prevent or punish genocide. On the contrary, Ukraine insists no genocide has occurred," Russia's agent to the court, Gennady Kuzmin, said in opening remarks.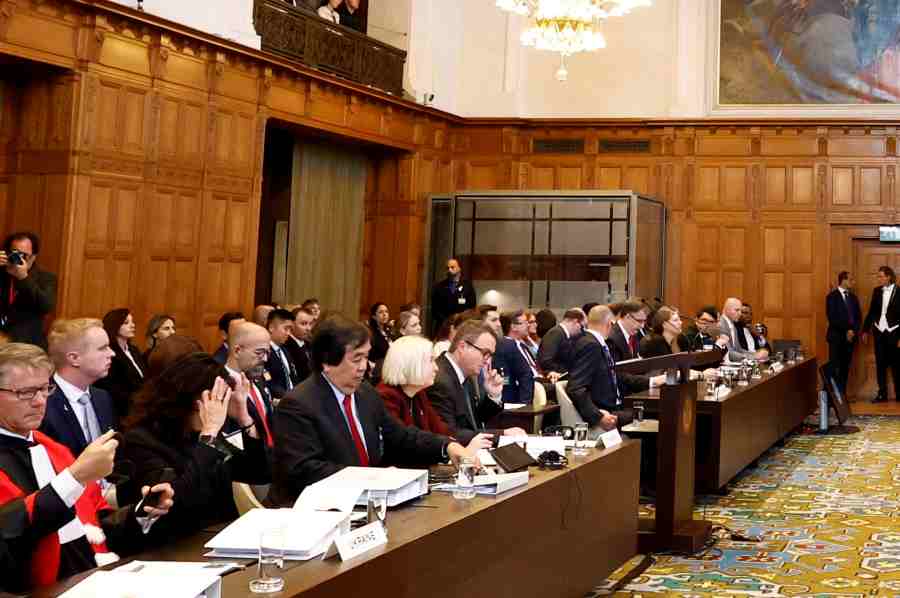 "That alone should be enough to reject the case. Because according to the court's jurisprudence, if there was no genocide, there cannot be a violation of the Genocide Convention."
Moscow says Ukraine is using the case as a roundabout way to get a ruling on the overall legality of Russia's military action.
Russian officials continue to accuse Ukraine of committing genocide. On Monday, Russia repeated allegations that the "Russophobic and neo-Nazi regime in Kyiv" was using the 1948 Genocide Convention, to which both countries are a party, as a pretext to "drag" a case before the court.
Some experts say a ruling in Kyiv's favour would not stop the war but could impact future reparations payments.
Ukraine brought the case days after the Russian invasion on 24 February 2022.
Kyiv argues Russia is abusing international law by saying the invasion was justified to prevent an alleged genocide in eastern Ukraine.
Ukraine says there was no risk of genocide in eastern Ukraine, where it had been fighting Russian-backed forces since 2014, and that the genocide treaty does not in any case allow an invasion to stop an alleged genocide.
SOURCE: INDEPENDENT PRESS AND NEWS AGENCIES
______________________________________________________________ 
FOLLOW INDEPENDENT PRESS:
TWITTER (CLICK HERE) 
https://twitter.com/IpIndependent 
FACEBOOK (CLICK HERE)
https://web.facebook.com/ipindependent
Think your friends would be interested? Share this story!