On October 1, 1999, Putin ordered a ground offensive into Chechnya. These forces are pictured on October 2.
Sun 22 January 2023:
Moscow's invasion has echoes of the tactics it employed in conflicts in the North Caucasus, experts and survivors say.
Kyiv, Ukraine – As Maryam watched an online video recorded in Ukraine of a Russian attack, the memories came flooding back.
She heard the wailing of a diving Russian plane, and yanked the headphones out of her ears, peeked at the sky above her and fell on the floor in shock.
"I haven't heard this sound since the war," Maryam, a Chechen refugee settled in a Western country, told Al Jazeera by phone.
She withheld her last name and other personal information because she still has family in Chechnya.
It was not just the sound.
The way Russian missiles, bombs and artillery appeared to deliberately target residential areas and the accusations and evidence that Russian soldiers tortured and killed civilians in occupied territories reminded Maryam of what she and many Chechens went through.
Human rights groups and analysts have said the brutality and alleged war crimes in Ukraine, a nation of more than 40 million, began in Chechnya, a mountainous, Qatar-sized province whose current population is 1.5 million.
"In this war, many observers see echoes of previous atrocities under [Russian President Vladimir] Putin," Ivar Dale, a senior policy adviser with the Norwegian Helsinki Committee, a rights watchdog, told Al Jazeera.
"Especially for Chechens, the indiscriminate bombing of civilian infrastructure is reminiscent of the attacks on [Chechnya's administrative capital of] Grozny in 1999," he said.
The Kremlin's military strategies and tactics used in Ukraine were tried and tested in Chechnya, military analysts said.
"Possibly, the most important thing is that [in Chechnya] the Russian army and law enforcement really got used to warring and killing," Nikolay Mitrokhin, a historian with Germany's Bremen University, told Al Jazeera.
Even the Soviet-Afghan war of 1979-1989, let alone previous military conflicts communist Moscow had taken part in, were not massive enough for such practices to take root, he said.
For decades, the Soviet military mostly had theoretical knowledge about warfare – and imitated it during drills.
"And here – a direct experience all or almost all land and air force units were involved in" both Chechen wars, Mitrokhin said.
Dark age
Maryam was a teenager when the first Chechen war began in 1994.
It killed tens of thousands of civilians and ended with Chechnya's de facto independence from Moscow in 1996.
In 1999, newly appointed Russian Prime Minister Vladimir Putin launched the second invasion of Chechnya – or, as he called it, an "anti-terrorist operation".
For many Chechens, these years were a throwback to the dark ages.
Maryam's family lived in a basement without electricity and running water, and she had to carry endless buckets from the well and chop firewood for heating and cooking.
"I don't even remember my first love," she said. "War, war, everywhere [was] war, the war that became part of daily life, the main thing in your life."
The new invasion pitted Chechens against each other, caused tens of thousands of deaths and "returned" the North Caucasus province to under Moscow's thumb.
Moscow convinced Muslim scholar Akhmad Kadyrov to switch sides and become Chechnya's leader.
After his 2004 killing, it installed his son Ramzan, a bullnecked boxing enthusiast as head of the Chechen Republic.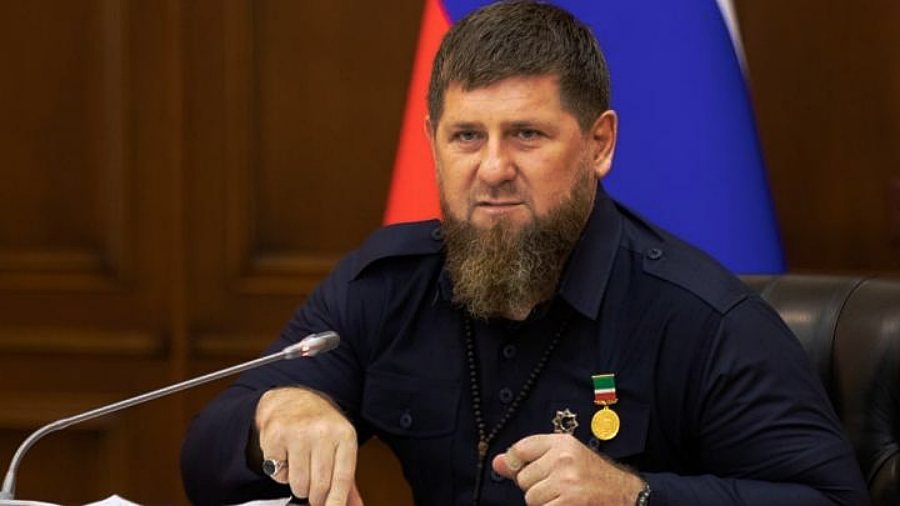 In Ukraine, the Kremlin also wanted to install a more pro-Moscow leader as president.
As its plans to topple President Volodymyr Zelenskyy's government failed, Moscow appointed Russia-friendly Ukrainians to govern occupied areas.
But they were rejected by the general population, while some were assassinated by Ukrainian intelligence and rebel fighters.
"An attempt to find a 'Ukrainian Kadyrov' failed," Sergey Bizyukin, a fugitive Russian opposition activist, told Al Jazeera.
"And that was of critical importance. Essentially, [first Russian President Boris] Yeltsin and Putin lost the war in Chechnya, but won the 'special operation' after finding a vassal," he said.
Brainwashing both sides
Maryam fled the rule of Ramzan Kadyrov, whose henchmen still abduct, torture and kill critics, alleged "radicals" and their families, according to survivors, witnesses and rights groups.
The sound of the Russian plane in the video made her suppressed horrors come back.
"It was so horrible that I couldn't get a grip for about 20 minutes. The flashback was so strong," she said.
And she was angry at average Russians, analysts and journalists who say they could not possibly imagine that Russian servicemen in Ukraine were capable of atrocities.
"And a million people [in Chechnya] who went through this hell sit and listen to Russians tearing their hair and saying, 'Oh God, how did we allow this to happen,'" she said.
Chechen rebels rest south of Grozny on December 21, 1999 [AP]
The second Chechen war also restarted the Kremlin propaganda machine.
"Russian control comes together with a lot of militant propaganda," a Russian human rights advocate who documented the war crimes in Chechnya told Al Jazeera on condition of anonymity.
In 2013, Valery Gerasimov, who now leads the Russian invasion in Ukraine, published his views on the doctrine of "hybrid wars" postulating that modern conflicts need ideological elements to target civilian populations on both sides.
For years, propaganda demonising "radicals" and glorifying Russia's "peacemaking" corroded hearts and minds – even among Chechens with firsthand experience of the wars.
"What I know from my Chechen friends is that they are in shock at how many people around [them] actually believe in this propaganda after everything they've lived through," the advocate said.
Russia began replicating the pattern in Ukraine right after annexing Crimea in 2014 as the Kremlin began to vilify local Muslims.
"They will turn us into a second Chechnya," a Crimean Tatar Muslim, said in March 2014.
Within weeks, he had to flee to mainland Ukraine as Moscow-installed authorities began arresting and jailing Muslims around him – and branding them "radicals" and "terrorists".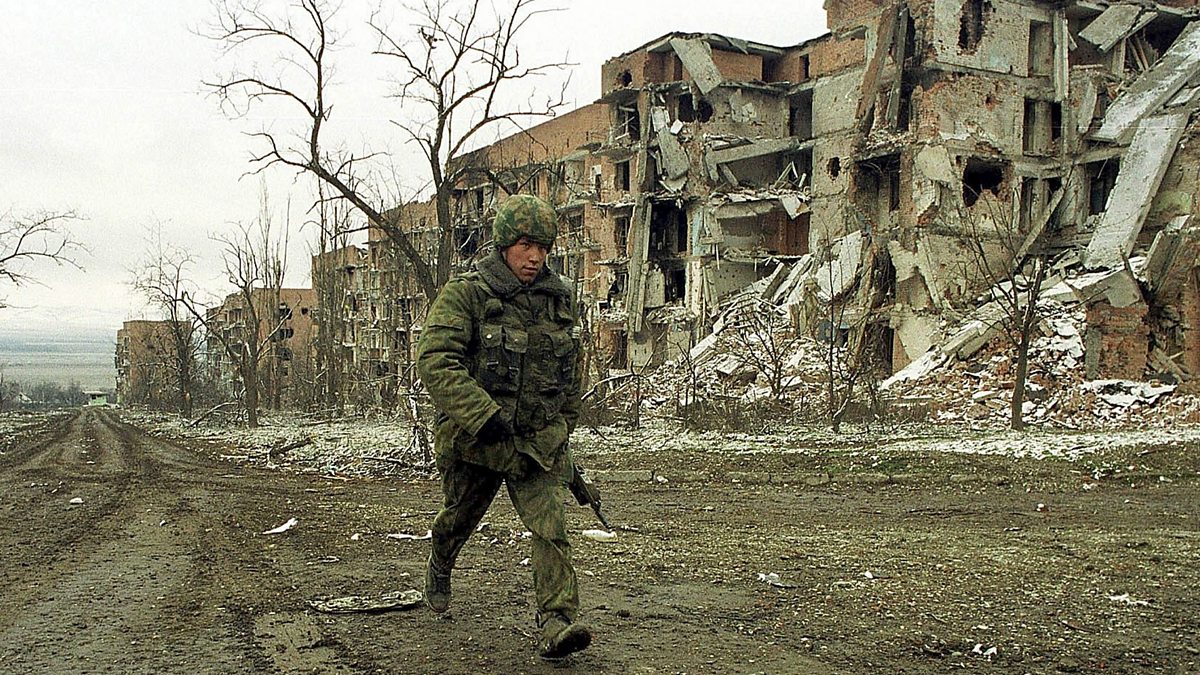 Death from above
In Chechnya, Moscow also "pioneered" its use of ballistic missiles on civilian areas.
On October 21, 1999, they hit an outdoor market, a maternity hospital and a mosque in Grozny, killing 118 and wounding more than 400.
For many more weeks, Grozny was shelled with artillery, now-internationally banned cluster bombs, and cruise missiles that killed thousands and razed the city to the ground.
Then, small infantry groups moved in, shooting at anyone in sight, according to survivors and media reports.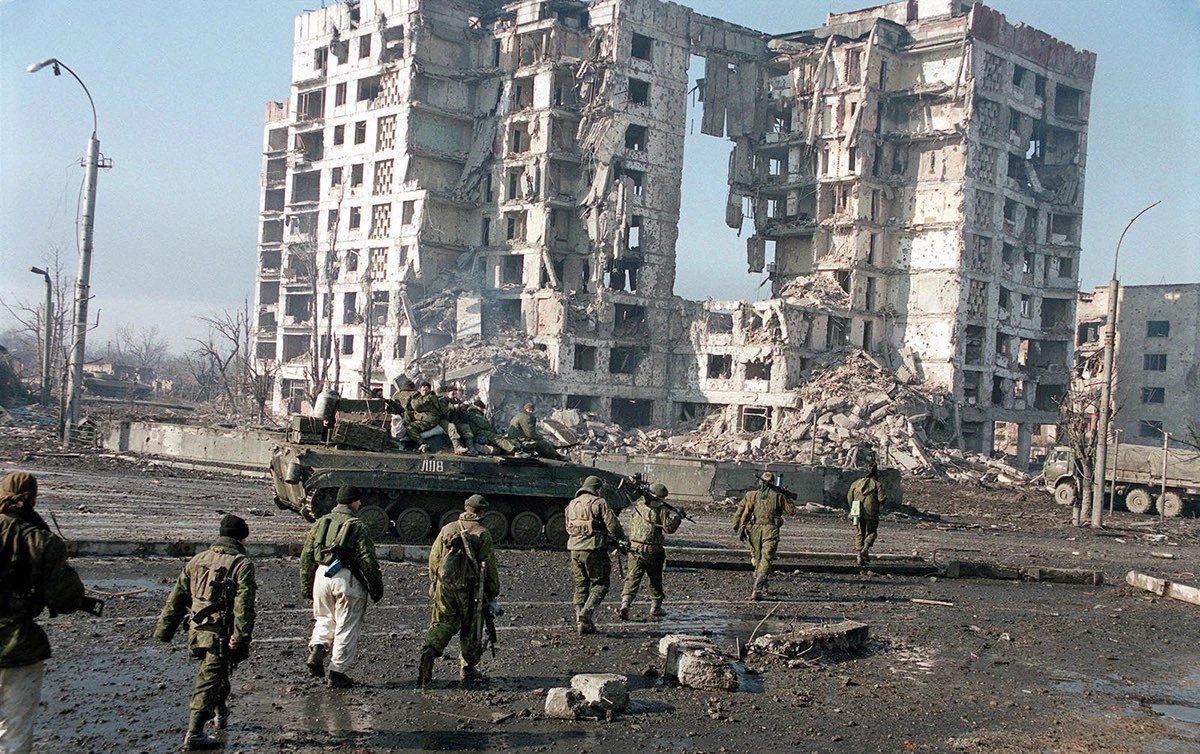 Colonel Alexander Dvornikov led a motor rifle division there – and 22 years later, between last April and June, served as chief commander of Russian forces in Ukraine.
Many more officers battle-tested in Chechnya are now among Russia's top brass.
Even some Chechen rebels who had joined Kadyrov now fight in Ukraine – although with very mixed results.
'Clean-ups'
Grozny fell on February 6, 2000, boosting Putin's approval ratings and paving the way for his election as president a month later.
And as Russia was establishing control over Chechnya in the early 2000s, federal forces began mass-murdering civilians.
On February 5, 2000, riot police from St Petersburg, Putin's hometown, executed 56 civilians in the town of Novye Aldy.
"They just got in and shot dead whomever they wanted," the advocate said.
Russian forces systematically "cleaned up" residential areas to detain, torture or kill disloyal locals and terrorise the survivors.
Those "clean-ups" still fill Maryam with dread.
"The war itself was not as horrible as the clean-ups," she recalled.
For years, human rights groups documented the "clean-ups" and their consequences – and can now compare them with what happened in Ukraine.
"Russia's attack on Ukraine finally puts these horrors into context, and when the war is finally over, historians will surely see patterns stretching across all of Putin's wars, as well as other human rights disasters under his leadership," Norwegian Helsinki Committee's Dale said.
SOURCE: AL JAZEERA
___________________________________________________________________________________________________________________________________ 
FOLLOW INDEPENDENT PRESS:
TWITTER (CLICK HERE) 
https://twitter.com/IpIndependent 
FACEBOOK (CLICK HERE)
https://web.facebook.com/ipindependent
Think your friends would be interested? Share this story!