Sat 30 April 2022:
After purchasing the world's largest blue diamond ever offered at auction, a collector has given new meaning to the expression "feeling blue."
According to the auction house, the De Beers Cullinan Blue, a 15.10-carat step-cut diamond, was sold by telephone to an anonymous buyer on Wednesday at Sotheby's in Hong Kong. The stone received a pre-sale high estimate of $48 million, making it the first blue diamond above 15 carats to ever appear at auction. It had pounded down for over $10 million more when the bidding was over: $57,470,391.
The De Beers Cullinan Blue Diamond – De Beers.
The diamond has originated from Cullinan mine in South Africa and was obtained in 2021, and has received the highest rankings for each of the standards by which the quality of a colored diamond is judged, according to Sotheby's. The Gemological Institute of America has graded it "fancy vivid blue," the best possible color grading, which has been awarded to no more than 1 percent of blue diamonds submitted to the group.
"The De Beers Blue captivated me from the moment I laid eyes on it," Patti Wong, the chairman of Sotheby's Asia, said in a statement. "With its powerful vivid color, and breathtakingly beautiful cut, it is truly a once-in-a-generation stone, and quite simply the greatest blue diamond of its size I have ever seen."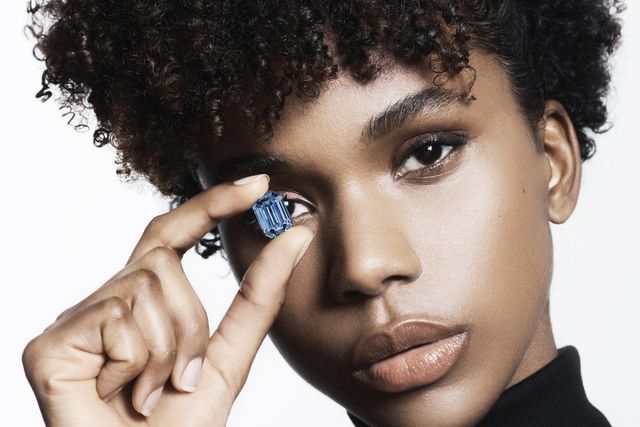 In a statement, Sotheby's said, "Blue diamonds of this importance are exceptionally rare, with only five examples over 10 carats ever having come to auction, none of which have exceeded 15 carats, making the appearance of this flawless gem a landmark event in itself."   
"It is truly a once-in-a-generation stone, and quite simply the greatest blue diamond of its size I have ever seen," said Patti Wong, chairman, Sotheby's Asia.  
Throughout history, the colour blue🔷has come to convey different things: melancholy, royalty, divinity, and more. Anchoring this season's Hong Kong Luxury Week (27 April) is 'The De Beers Cullinan Blue' 15.10-carat step-cut blue diamond. Discover more: https://t.co/Af4YoPZ06r pic.twitter.com/NzDi7TjLUM

— Sotheby's (@Sothebys) April 13, 2022
Blue diamonds are among the rarest of all colored diamonds, and its color is caused by trace boron atoms within the diamond crystal lattice. Other colored diamonds can be discovered in mines all around the world, but the majority of blue diamonds originate from the Cullinan mine in South Africa.
The CTF Pink Star, a pink diamond that sold for $71.2 million in 2017, holds the record for the most expensive diamond ever sold at auction.
SOURCE: INDEPENDENT PRESS AND NEWS AGENCIES
___________________________________________________________________________________________________________________________________________
FOLLOW INDEPENDENT PRESS:
TWITTER (CLICK HERE) 
https://twitter.com/IpIndependent 
FACEBOOK (CLICK HERE)
https://web.facebook.com/ipindependent
Think your friends would be interested? Share this story!