President Tayyip Erdoğan presents a ball as he meets with Tesla CEO Elon Musk in New York, U.S., Sept. 17, 2023. (Handout via Reuters)
Mon 18 September 2023:
Turkish President Recep Tayyip Erdogan met with Tesla CEO Elon Musk in New York City on Sunday, inviting him to Türkiye and asking him to establish Tesla's seventh factory there.
During the meeting, which took place at the Turkish House (also called Turkevi Center) in Manhattan, Erdogan informed Musk, the founder of Tesla and SpaceX, about "Türkiye's technological breakthroughs as well as the 'Digital Türkiye' vision and the National Artificial Intelligence Strategy," Türkiye's Communications Directorate said in a statement.
Reminding that with the Turkish electric car Togg hitting the roads in Türkiye, Tesla entered the Turkish market, Erdogan called on Tesla to establish its seventh factory in Türkiye, said the statement.
"President Erdoğan stated that opportunities for collaboration with SpaceX may arise through the steps taken and to be taken as part of Türkiye's space program and invited Musk to Teknofest to be held in İzmir," it added.
Erdoğan arrived in the U.S. Sunday to attend the 78th session of the U.N. General Assembly.
Erdoğan also said during the meeting that Türkiye was open to cooperation on artificial intelligence and Starlink, the satellite internet venture of Musk's SpaceX, the communications directorate said.
According to the statement, Musk, in return, said that many Turkish suppliers are already working with Tesla and that Türkiye is among the most important candidates for the next factory.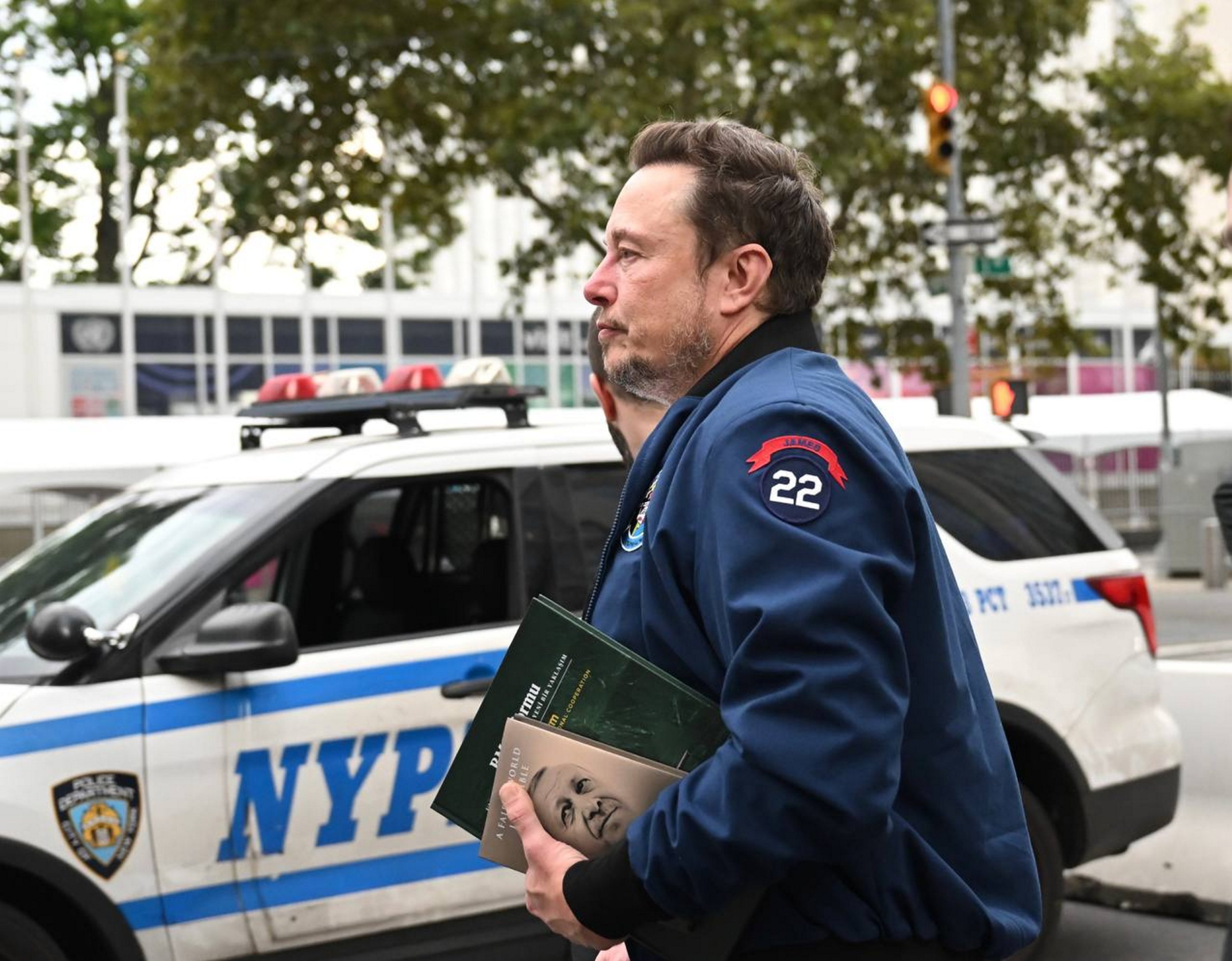 In response to President Erdoğan's offer of cooperation with SpaceX's Starlink satellite service as well as in artificial intelligence, Musk said they wish to work with Turkish authorities to obtain the necessary license to offer Starlink satellite services in Türkiye, the statement said.
During the meeting, Erdoğan also mentioned Türkiye's success in producing Bayraktar TB2 unmanned aerial vehicles (UAVs), while Musk responded by saying that he was aware of the world's interest in Bayraktar drones, the statement added.
Musk is also set to meet Israeli Prime Minister Benjamin Netanyahu in California on Monday, Reuters cited. Musk posted on social media platform X that their talks would focus on artificial intelligence technology.
Tesla in August expressed an interest in building a factory in India that would produce a low-cost electric vehicle.
Tesla currently has six factories and is planning to build a seventh in Mexico in northern Nuevo Leon state, part of the automaker's push to expand its global footprint.
President Erdoğan meets Tesla and SpaceX CEO Elon Musk in New York, inviting him to Türkiye and discussing building Tesla's 7th factory there, while also extending invite to aerospace and technology festival Teknofest in Izmir. pic.twitter.com/clX8S1Vm06

— INDEPENDENT PRESS (@IpIndependent) September 18, 2023
Musk said in May that Tesla would probably pick a location for a new factory by the end of this year.
Tesla shares are up 123% so far this year and the automaker on Saturday said it had produced its 5 million cars.
In addition to running Tesla, Musk also bought X, formerly known as Twitter, for $44 billion in 2022.
SOURCE: INDEPENDENT PRESS AND NEWS AGENCIES
______________________________________________________________ 
FOLLOW INDEPENDENT PRESS:
TWITTER (CLICK HERE) 
https://twitter.com/IpIndependent 
FACEBOOK (CLICK HERE)
https://web.facebook.com/ipindependent
Think your friends would be interested? Share this story!