Thu 18 November 2021:
According to a top New York law enforcement official, two men convicted of gunning down United States activist and human rights advocate Malcolm X nearly six decades ago will be cleared of the crime.
Muhammad Aziz and Khalil Islam's convictions in the assassination of the Black leader will be overturned on Thursday, according to news outlets and the Manhattan District Attorney's office.
Identified by witnesses as two of the gunmen involved in the assassination, Aziz, then known as Norman 3X Butler, and Islam, then known as Thomas 15X Johnson, had long maintained their innocence.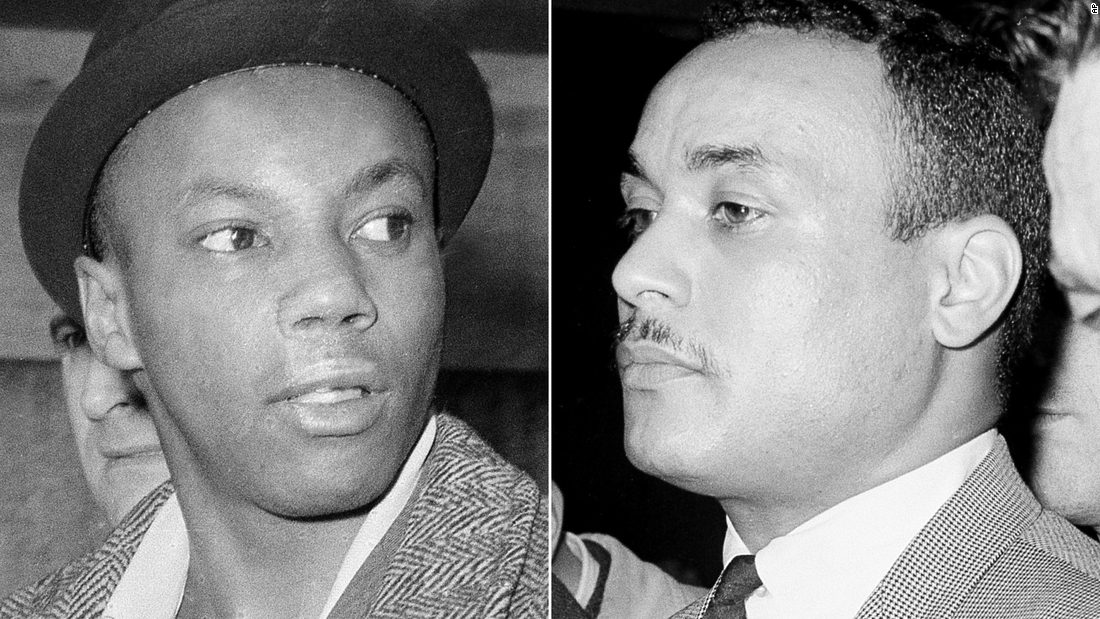 Norman 3X Butler, left, and Thomas 15X Johnson will have their convictions thrown out.
"These men did not get the justice that they deserved," Manhattan District Attorney Cyrus R Vance Jr told The New York Times newspaper in an interview after completing a lengthy reinvestigation of the case together with the Innocence Project and civil rights lawyers.
Vance tweeted on Wednesday his office would move to "vacate the wrongful convictions of two men" with "more to come tomorrow".
One of the civil rights era's most controversial and compelling figures, Malcolm X rose to fame as the Nation of Islam's chief spokesperson, proclaiming the Black Muslim organisation's message at the time: racial separatism as a road to self-actualisation. He famously urged Black people to claim civil rights "by any means necessary".
He spent more than a decade building the Nation of Islam before becoming disillusioned and breaking acrimoniously with it in 1964, about a year before he was gunned down in New York City on February 21, 1965.
Aziz, Islam and a third man, Mujahid Abdul Halim – known at the time of the killing as Talmadge Hayer and also as Thomas Hagan – were convicted of murder in March 1966 and sentenced to life in prison.
The Manhattan investigation of the original case found prosecutors withheld evidence from the jury that pointed to other suspects and likely would have led to the acquittal of Aziz and Islam.
"This wasn't a mere oversight," Deborah Francois, a lawyer for the men told the Times. "This was a product of extreme and gross official misconduct."
Hagan said he was one of three gunmen who shot Malcolm X, but he testified that neither Aziz nor Islam was involved.
Aziz, now 83, was released from prison in 1985. Islam was released in 1987 and died in 2009, according to the Times.
Malcolm X rose to prominence as the Nation of Islam's leading spokesperson, expressing the Black Muslim organization's message at the time: racial separatism as a path to self-actualization. He was one of the most controversial and intriguing characters of the civil rights movement. He famously encouraged African-Americans to fight for their civil rights "by any means necessary."
Malcolm X was assassinated in front of his wife and children as he prepared to speak to a crowd of 400 people at the Audubon Ballroom in Manhattan's Washington Heights neighborhood.
Malcolm was shot in the chest by a man carrying a sawn-off shotgun who stormed the stage. Two other men, armed with semi-automatic weapons, charged forward and opened fire on him. With 21 gunshot wounds, he was pronounced dead at a neighboring hospital.
_____________________________________________________________________________
FOLLOW INDEPENDENT PRESS:
TWITTER (CLICK HERE)
https://twitter.com/IpIndependent
FACEBOOK (CLICK HERE)
https://web.facebook.com/ipindependent
Think your friends would be interested? Share this story!