Sat 11 December 2021:
After a tornado struck Kentucky, at least 50 people were killed. Kentucky Governor Andy Beshear revealed the facts on Saturday.
The tornado particularly hit Graves County in the state late Friday.
The governor added that two tractor-trailers filled with drinking water were sent to the town of Mayfield in the county, which was hit hard by the tornado.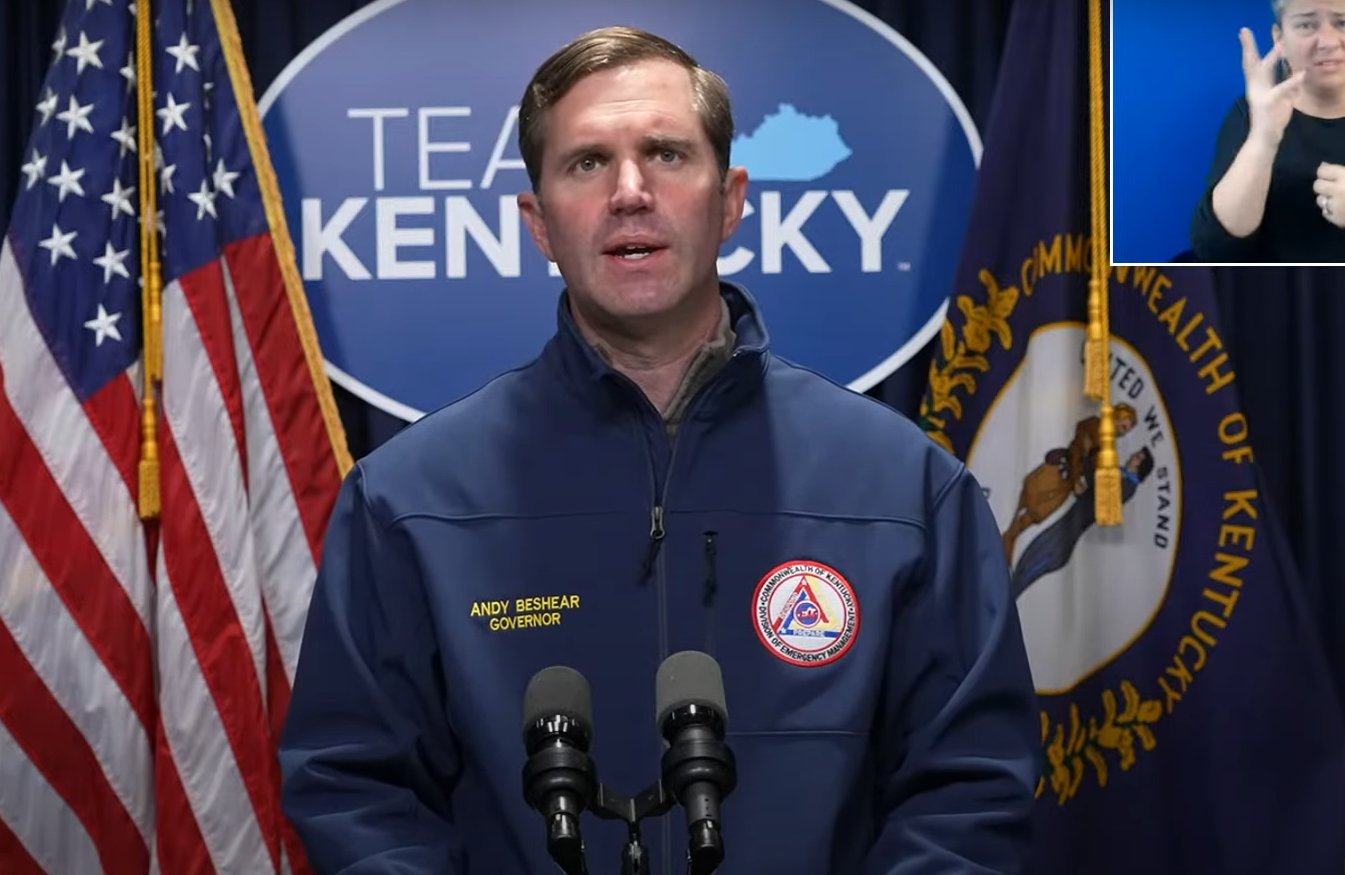 "We have one factory in Mayfield with a roof collapse that is going to be a mass casualty event," he added.
Beshear also declared a state of emergency after the natural disaster.
BREAKING: At least 50 people killed in Mayfield, KY in ovenight tornado, per Gov. Beshear.

📸: Angela Robinson, @WLKY viewer pic.twitter.com/Q9dVUq9s86

— Julie Dolan (@WLKYJulie) December 11, 2021
"This is going to be some of the worst tornado damage that we've seen in a long time," Beshear said early Saturday. "This is likely to be the most severe tornado outbreak in our state's history."
"We believe our death toll from this event will exceed 50 Kentuckians and probably end up 70 to 100," said Beshear.
The city of Mayfield, Kentucky was hit particularly hard, including a candle manufacturing factory that was operating at the time the twister hit. There were 110 people in the building at the time that it was nearly collapsed by the tornado. Dozens are expected to be lost from there, Beshear said.
Extensive tornado damage on Stonebridge Lane near Russellville Road. pic.twitter.com/FJ3yM7PSyL

— Don Sergent (@BGDNbusiness) December 11, 2021
The Associated Press reported earlier that four people had died as a result of various tornadoes and storms across the country.
According to Dean Flener, a spokesman for the Tennessee Emergency Management Agency, two storm-related deaths have been confirmed in Lake County in the state's northwestern corner.
Video from the candle factory in Mayfield, Ky. (📸:Brandon Robbins) Gov. Beshear confirmed at least 50 deaths in western Ky. following tornadoes Friday night>>> https://t.co/BuQpMh0rSu pic.twitter.com/GK4IlwzZKa

— KFVS News (@kfvsnews) December 11, 2021
In neighboring Obion County, a third death was recorded. The Tennessee Department of Health confirmed the fatalities, according to Flener, but no more details were published right away.
At least 100 rescue vehicles were dispatched to the Amazon warehouse near Edwardsville, Illinois, some 25 miles (40 kilometers) east of St. Louis, where a wall the length of a football field and the roof above it had collapsed.
It was unclear how many individuals were injured, however one person was transported to a hospital by helicopter.
In Illinois, authorities said people were trapped after a roof partially collapsed at an Amazon warehouse near St Louis late on Friday after tornadoes and strong storms blew through the area.
"The safety and well-being of our employees and partners is our top priority right now," Amazon spokesperson Richard Rocha said in a written statement.
"We're assessing the situation and will share additional information when it's available."
SOURCE: INDEPENDENT PRESS AND NEWS AGENCIES
_____________________________________________________________________________
FOLLOW INDEPENDENT PRESS:
TWITTER (CLICK HERE)
https://twitter.com/IpIndependent
FACEBOOK (CLICK HERE)
https://web.facebook.com/ipindependent
Think your friends would be interested? Share this story!