Mon 21 November 2022: 
Java, the largest island in Indonesia, was shaken by a shallow 5.6-magnitude earthquake on Monday that damaged buildings and caused a landslide, according to local officials, killing at least 46 people and wounding 700 more.
The quake was centred in the Cianjur region of West Java, according to the United States Geological Survey, and was felt as far away as the capital of Jakarta, where panicked residents ran into the streets.
"The latest data, 46 people were killed. Victims kept coming from many areas. Around 700 people were injured," Herman Suherman, the head of the administration in Cianjur town in West Java, told broadcaster Kompas TV.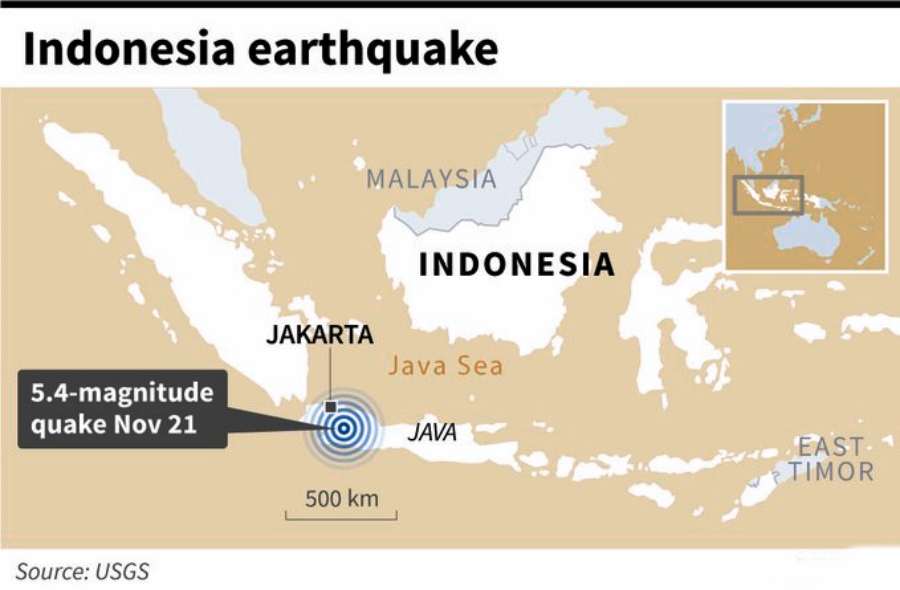 He said as many as thousands of houses could have been damaged in the quake.
The local administration chief in the town worst hit by the tremor said most of the deaths were counted in one hospital alone, without providing a specific figure, with many others in surrounding villages still to be evacuated.
"The information I got for now, in this hospital alone, nearly 20 died and at least 300 people are being treated," Herman Suherman told broadcaster Metro TV.
"Most of them had fractures from being trapped by the ruins of buildings."
Shops, a hospital, and an Islamic boarding school in the town were severely damaged by the quake, according to local media.
The country's meteorological agency warned residents near the quake to watch out for more tremors.
"We call on people to stay outside the buildings for now as there might be potential aftershocks," the head of Indonesia's meteorological agency, Dwikorita Karnawati, told reporters.
#BREAKING -The first footage of the destruction caused by a magnitude 5.4 #earthquake in western #Java. In addition to landslides and collapsed buildings, 2 people died #Indonesia (21/11/2022).#Cianjur #news #BreakingNews
TELEGRAM JOIN 👉 https://t.co/anmxTr9HCh pic.twitter.com/ALoGedxrSw

— Top Disaster (@Top_Disaster) November 21, 2022
BREAKING: #BNNIndonesia Reports

According to local officials, "nearly 20 people were killed and 300 were injured" in #Indonesia's #WestJava 5.6 magnitude #earthquake. pic.twitter.com/jFlNLVssVb

— Gurbaksh Singh Chahal (@gchahal) November 21, 2022
According to the United States Geological Survey (USGS), the earthquake's depth was 10.0 Km below the ground and occurred around 11:51:10 (UTC+05:30) on Monday.
The epicenter was determined to be at 6.840 degrees south latitude and 107.107 degrees east longitude. Java's largest city is the national capital of Jakarta.
Java is a volcano-dotted island that lies between Sumatra and Bali, is situated at the geographic and economic centre of Indonesia.
SOURCE: INDEPENDENT PRESS AND NEWS AGENCIES
___________________________________________________________________________________________________________________________________ 
FOLLOW INDEPENDENT PRESS:
TWITTER (CLICK HERE) 
https://twitter.com/IpIndependent 
FACEBOOK (CLICK HERE)
https://web.facebook.com/ipindependent
Think your friends would be interested? Share this story!