The most mystifying grave found during the July-August dig season at Pampa La Cruz in northern Peru held five children in a circle with their heads almost touching. Source: andina / Huanchaco Archaeological Program
Tue 11 October 2022:
The remains of child sacrifice victims have reportedly been found in Peru, and archaeologists are concerned that many more are likely still concealed somewhere in the area.
According to Gabriel Prieto, an assistant professor of anthropology at the University of Florida, the skeletons show proof that the children's hearts were removed, according to a report by Live Science.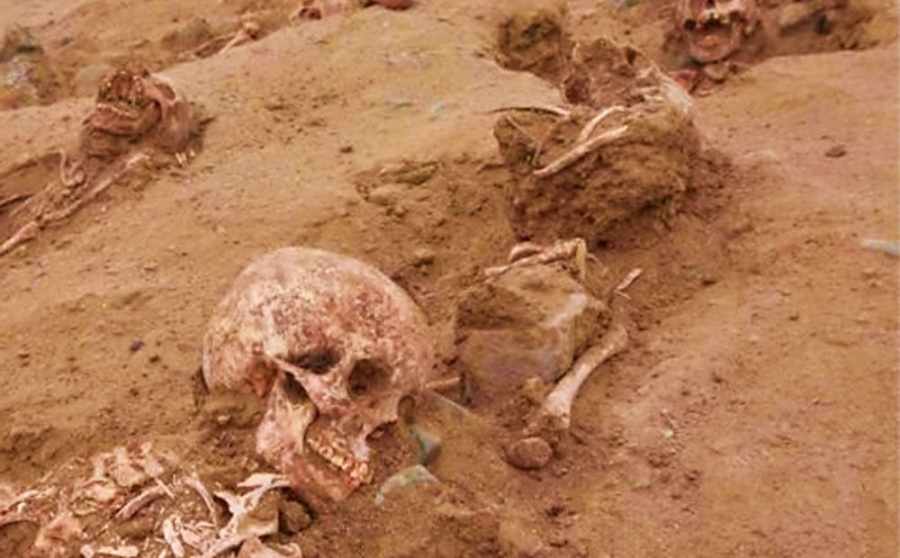 The excavations were overseen by Prieto in Pampa La Cruz, close to Huanchaco, where the remains were found.
Prieto said that all 76 skeletons had a "transversal clean cut across the sternum.". It suggests that "they possibly opened up the rib cage and then they possibly extracted the heart." 
In an email, Prieto told Live Science: "They were buried on an extended position, with the feet toward the east." He added, "They were buried on top of an artificial mound. We thought that the area, and particularly the mound, was free of Chimu child sacrifices, but we found the opposite." 
Pampa La Cruz has been the site of excavations for a while. In addition to the 323 children that have already been discovered there, 137 children and three adults have also been discovered at Las Llamas, a nearby location. Remains suggested that the children's hearts had been taken out. 
According to Prieto, it's possible that there are additional child sacrifice sites nearby based on the archaeological discoveries made so far. As absurd as it may sound, he asserted that "there may be more [than] 1,000 victims."
The radiocarbon dating of the 76 recently found remains is still being completed, but according to Prieto, earlier Pampa La Cruz victims were thought to have perished between A.D. 1100 and 1200.
During this time, the Chimu people, who are renowned for their exquisite metalwork and the city of Chan Chan, flourished in the area.
It is unknown why the Chimu would have conducted such extensive child sacrifice in this region.
SOURCE: INDEPENDENT PRESS AND NEWS AGENCIES
___________________________________________________________________________________________________________________________________________
FOLLOW INDEPENDENT PRESS:
TWITTER (CLICK HERE) 
https://twitter.com/IpIndependent 
FACEBOOK (CLICK HERE)
https://web.facebook.com/ipindependent
Think your friends would be interested? Share this story!