Mon 04 January 2021:
A UK judge on Monday refused a US request to extradite WikiLeaks founder Julian Assange on espionage charges.
District Judge Vanessa Baraitser delivered the decision against the US authorities' request on Monday, at the Old Bailey court in London.
Assange was likely to commit suicide if sent to the US, Baraitser said.
Assange faces 18 charges in the US relating to the 2010 release by WikiLeaks of 500,000 secret files detailing aspects of military campaigns in Afghanistan and Iraq.
If convicted in the US, Assange would be jailed for up to 175 years.
US prosecutors have indicated they will appeal against the ruling.
Lawyer Edward Fitzgerald said he would apply for bail for Assange on Wednesday, pending that appeal.
Assange, 49, appeared in court wearing a navy suit and a mask, and showed little emotion at the ruling, simply wiping his brow.
His fiancee Stella Moris, with whom he has two sons, burst into tears and was embraced by WikiLeaks editor-in-chief Kristinn Hrafnsson.
District Judge Vanessa Baraitser  said, If imprisoned in the US, Australian-born Assange "faces the bleak prospect of severely restrictive detention conditions designed to remove physical contact and reduce social interaction and contact with the outside world to a bare minimum".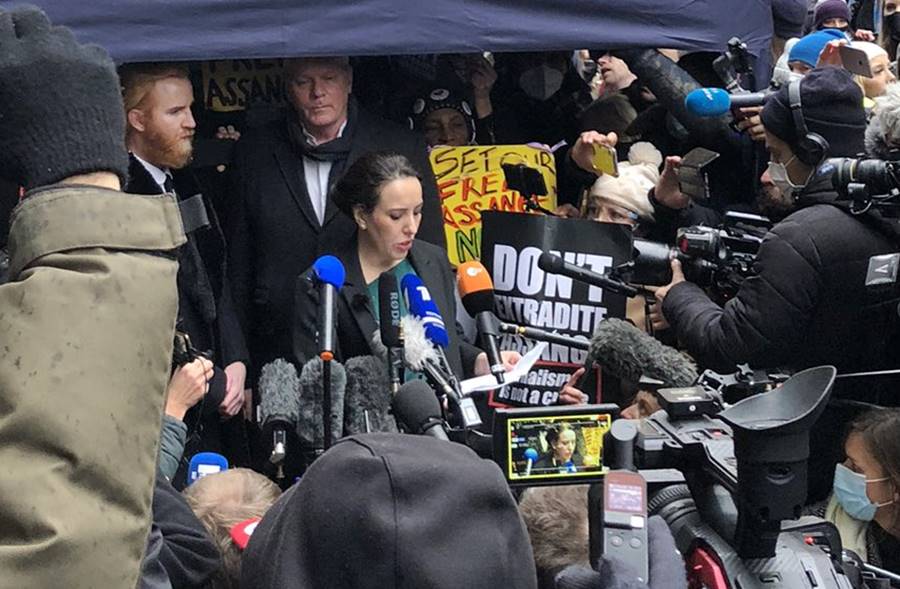 Fiancee  of Assange Stella Morris during Press Conference.
Baraitser rejected claims by the defense that Assange was protected by free-speech guarantees. His "conduct, if proved, would therefore amount to offenses in this jurisdiction that would not be protected by his right to freedom of speech," Baraitser said.
But she said Assange suffered from clinical depression that would be exacerbated by the "severely restrictive detention conditions designed to remove physical contact" in US prison.
Assange had the "intellect and determination" to circumvent any suicide prevention measures the authorities could take, the judge said.
The Judicial Office tweeted a link to the full judgement in the Assange case.
Full judgment in Julian Assange extradition case available here https://t.co/Hv5oramhZf #Assange

— Judicial Office (@JudiciaryUK) January 4, 2021
The US government, which is attempting to prosecute Assange, reacted quickly as expected, saying it would appeal the decision.
Assange's lawyers said they would ask for his release from Belmarsh, a maximum-security London prison where he has been held for almost two years, at a bail hearing on Wednesday.
In April 2019, a grand jury in the US state of Virginia charged Assange with one count of computer hacking. This was for allegedly assisting former US Army intelligence analyst Chelsea Manning in accessing classified documents that exposed the US military activities in Iraq and Afghanistan.

In May 2019, the WikiLeaks founder was indicted under the US Espionage Act on 17 counts for soliciting, gathering and publishing US military and diplomatic documents in 2010, all provided by Manning.
The US Justice Department on June 11, 2020, formally asked Britain to extradite Assange to the US to face a total of 18 charges.
FOLLOW INDEPENDENT PRESS:
TWITTER (CLICK HERE)
https://twitter.com/IpIndependent
FACEBOOK (CLICK HERE)
https://web.facebook.com/ipindependent
Think your friends would be interested? Share this story!