Thu 24 November 2022: 
The U.N. human rights chief on Thursday made a strong appeal to Iranian authorities to stop their "unnecessary and disproportionate" use of force against protesters in Iran in a speech to the Human Rights Council on the ongoing crisis.
"We are now in a full-fledged human rights crisis," High Commissioner of Human Rights Volker Turk said in his first address to the 47-member council since starting last month.
"No society can be calcified or fossilised as it may stand at a single point in time. To attempt to do so, against the will of its people, is futile," he added.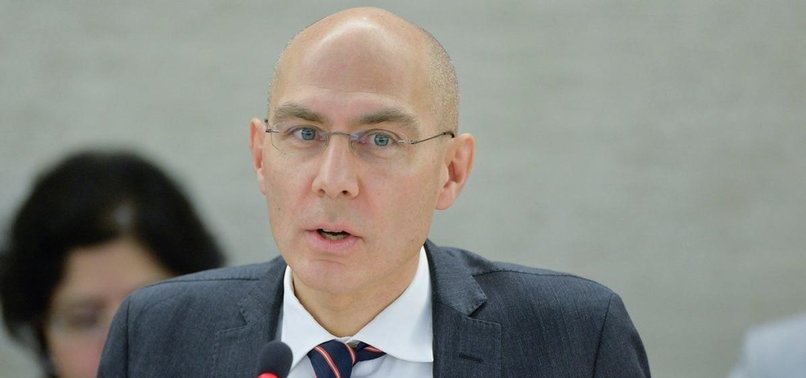 The U.N. High Commissioner for Human Rights said on Tuesday that the situation in Iran was "critical", describing a hardening of the authorities' response to protests that have resulted in more than 300 deaths in the past two months.
"The rising number of deaths from protests in Iran, including those of two children at the weekend, and the hardening of the response by security forces, underline the critical situation in the country," said a spokesperson for U.N. human rights chief Volker Turk at a Geneva news briefing.
The demonstrations began on September 16, 2022, following the death of Mahsa (Jina) Amini, a 22-year-old Kurdish-Iranian woman, in the custody of the "morality police." As of November 22, human rights groups are investigating the deaths of 434 people including 60 children.
Human Rights Watch has documented a pattern of Iranian authorities using excessive and unlawful lethal force against protesters in dozens of instances in several cities including Sanandaj, Saghez, Mahabad, Rasht, Amol, Shiraz, Mashhad, and Zahedan.
Since mid-November, Iranian authorities have dramatically escalated their crackdown against protests in several Kurdish cities, with at least 39 people killed, according to the Kurdistan Human Rights Network. The group reported that from November 15 to 18, at least 25 Kurdish-Iranian residents were killed in Kurdish cities during three days of protests and strikes to commemorate the victims of the government's bloody crackdown on protests in November 2019.
Tehran has blamed foreign enemies and their agents for orchestrating the protests, which have turned into a popular revolt by Iranians from all layers of society, posing one of the boldest challenges to the clerical rulers since the 1979 revolution.
Iran's World Cup team declined to sing their anthem before their opening World Cup match on Monday in a sign of support for the protests.
SOURCE: INDEPENDENT PRESS AND NEWS AGENCIES
___________________________________________________________________________________________________________________________________ 
FOLLOW INDEPENDENT PRESS:
TWITTER (CLICK HERE) 
https://twitter.com/IpIndependent 
FACEBOOK (CLICK HERE)
https://web.facebook.com/ipindependent
Think your friends would be interested? Share this story!