Wed 30 December 2020:
The US city of Boston, Massachusetts has removed a controversial emancipation statue of President Arbaham Lincoln amid criticism of the depiction.
A flatbed truck trundled out of Lincoln Park on Tuesday morning, bearing the statue of former President Abraham Lincoln standing with his hand out over a kneeling shackled slave after the Boston Art Commission voted in June to remove the statue.
The statue, known variously as the Emancipation Memorial and the Freedman's Memorial, was removed by city workers Tuesday morning from its perch in downtown Boston. It features a Black slave kneeling in front of Lincoln, who as president in the mid-1800's ended legal slavery in the US.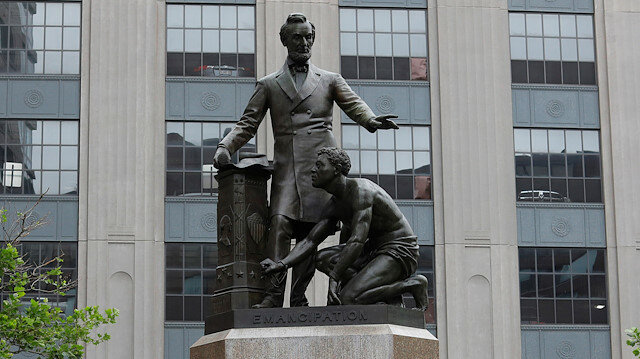 The memorial, a copy of one that was erected in Washington, D.C. in 1876, had stood in Boston since 1879.
It depicted Lincoln holding a copy of his famous Emancipation Proclamation over a Black male slave who was kneeling.
Tory Bullock, the local artist who led the push, said he's "very proud" of Boston for taking away the statue, which opponents for years have felt was belittling to Black people.
"At the top of my petition, I described being a kid and I would always ask myself, 'If he's free, why is he still on his knees?' After this, no kid will ever have to ask that again," Bullock said.
Boston city officials announced in June the statue would be taken down over complaints about its depiction amid the US's ongoing reckoning with race that again gained traction after the police-involved killings of Black men.
Some had criticized the statue's portrayal of the Black man, saying it appears as though he was kneeling before his white emancipator, essentially dehumanizing the slave while portraying Lincoln as a white savior.
Amid the protests that flourished in June and July over racial issues, the art commission voted to take this statue down, and, after a parallel set of hearings, not put the North End's Christopher Columbus statue back up after it was decapitated. That statue will now live in the Knights of Columbus building in that neighborhood.

FOLLOW INDEPENDENT PRESS:
TWITTER (CLICK HERE)
https://twitter.com/IpIndependent
FACEBOOK (CLICK HERE)
https://web.facebook.com/ipindependent
Think your friends would be interested? Share this story!